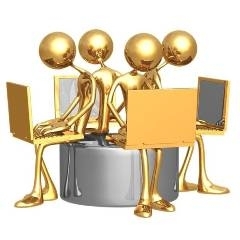 Welcome to online learning! Online learning provides a flexible way of taking courses. You can study where you want, when you want. Each online course is accessible 24/7 and has a schedule with deadlines to ensure you progress smoothly through the course week by week. Click the links below to find out more about online learning options.
What is Online Learning?
Instead of taking courses in a traditional classroom setting, online learning involves taking courses online on your computer. This offers flexibility to complete a course anywhere there is an internet connection and at any time of day.
Confederation Online and OntarioLearn offer asynchronous courses. This means there are no live lectures to attend. Asynchronous courses have schedules that list tasks which need to be completed each week. The course is available 24/7 so students can login to the course at any time during the week and complete the tasks on the schedule. Any deadlines listed on the course schedule must be adhered to. 
Each online course has a facilitator who helps to guide students through the course. Facilitators are available to answer questions, encourage discussion on course topics, and provide feedback.
Online courses are hosted on web-based learning systems, such as Blackboard or Desire 2 Learn, which are designed to make it easy to navigate through course material. These systems have different tools to support learning, such as videos, modules, discussion boards, and more. Each online course will be different because of the different tools available.
Online courses may have a combination of assignments and exams. Assignments are submitted online through the course and exams are completed online in the course. Any exams requiring proctors can be completed at the Testing Centre at the Confederation College Thunder Bay campus or at a distance through other proctoring locations.
Students taking online courses must be self-motivated and committed as it is their responsibility to meet deadlines on the course schedule. Students should expect to commit between 5–12 hours per week on an online course, depending on their knowledge on the course topic.  
To find out if online learning is right for you, take the quiz.
Frequently Asked Questions
No and no. Every course will have a schedule to follow. As the course is available 24/7 and course schedules have week to week timelines, coursework may be completed at any time within the week. In rare cases, courses may have mandatory group work and mandatory chats where students will be required to log into the course at specific times. This will be outlined at the beginning of the course.

An asynchronous online course does not contain any live lectures where students are expected to be online at specific times. Asynchronous courses are a form of independent study and have schedules that students are responsible for following. The schedules assist with course progression week by week. Course content is available 24/7 for students to login and complete coursework during the week when they have time. Course schedules provide deadlines for assignments or exams to be completed. Each course has a facilitator who helps to guide students through the course content. Students can contact the facilitator via discussion boards within the course or email. All OntarioLearn (OL) and Confederation Online courses (with the exception of CS200) are asynchronous.

You should expect to spend a minimum of 5 - 12 hours per week, per course, depending on your background in the subject area.

No. There are no extensions granted for online courses as they have set start and end dates.

Yes. You must be 19 years of age or older to register into an OntarioLearn course. Students 18 years of age or less must possess an Ontario Secondary School Diploma or equivalent to register. For specific program admission requirements, please see the Admissions Department page.

In most cases, the pre-requisite will be required. However, if you believe you have relevant knowledge and skills to take the advanced level course, you may be exempted from taking the pre-requisite. For more information, please email onlinelearning@confederationcollege.ca. Please note, if you decide to take the advanced level course without taking the pre-requisite, you do so at your own risk.

No. You will have two separate accounts - your OntarioLearn account and your Confederation College portal account. It is important that you remember your login and passwords for both accounts. OntarioLearn is where your course will be located. The Confederation College portal is where you will find your Confederation College email, final grade(s), academic records and other important Confederation College information.

Your OntarioLearn username is your Confederation College email address (including @confederationcollege.ca). Your OntarioLearn password information will be emailed to your Confederation College email account 5 days prior to the course start. If you have registered after the course start date, the password information will be emailed to you when your OntarioLearn account has been activated.

OntarioLearn accounts will be activated 5 days prior to the course start. The course will appear in your OntarioLearn account on the course start date. If you have registered after the course start date, your OntarioLearn account will be activated within a 24 to 48 hour period.

If your online exam does not require a proctor, it can be written wherever there is a good internet connection. If your exam requires a proctor, please visit our exam webpage and follow the instructions relevant to you.

Many OntarioLearn courses that had required exams with live proctoring have changed to different midterm and final assessments. Course specific exam information is only available from your facilitator and within your online course.

Final grades are found on Confederation College's Self Serve Banner (SSB) system, which is accessible through the Confederation College portal. Final grades are checked and posted daily. In some cases, grades may take between 2 and 4 weeks to come in from OntarioLearn.