Personal Counselling (Indigenous)
Meet the Counselors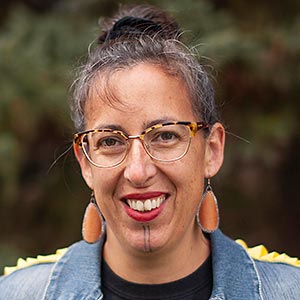 Leanna Marshall
Indigenous Counsellor
E-mail: Leanna.marshall@confederationcollege.ca

Aanii, my name is Leanna Marshall. I am a member of Kitchenuhmaykoosib Inninuwug; however, I was born and lived in Thunder Bay my entire life. I am a mother of two lovely and vibrant daughters. I have worked at the Confederation College for fives years as an Indigenous counsellor. My role here is to provide emotional and mental health support for students. As well, I connect them to Elders and Knowledge keepers and other community resources. I have worked as a social worker/counsellor for over 19-years. The area of expertise that I offer is around trauma, addictions, and emotional skill-building using modalities like EMDR and DBT. I also love the act of being creative and encourage students to participate in making! It's amazing to see how proud people are when they make something with their own hands! I love to connect with people through art, being on the land picking medicines, and being around the fire having tea. 
You can find me in APIWIN or in my office in Student Success. 
Joe Wark
Indigenous Counsellor
E-mail: Joe.Wark@confederationcollege.ca
Hello. My name is Joe Wark and I am one of the Indigenous Counsellors at Confederation College. I am a lifelong resident of Thunder Bay and a proud father of two children. While my mom was a Lac Seul First Nation band member, I consider Thunder Bay to be my home community. I graduated from the Social Service Worker program at Confederation College and completed my Master of Social Work degree at Lakehead University. I am currently a PhD student in the School of Social Work at Memorial University. I have been working with youth and families since 2010 in a diverse range of settings including youth justice, mental health, substance misuse, and family counselling. As an author and researcher, I have published articles on Indigenous cultural values, complex trauma and parenting, and cross-cultural counselling. I am excited to help contributing to the success of Indigenous students at Confederation College.
Personal Counselling (Indigenous)
Negahneewin Student Services provides a safe, confidential place for Indigenous students to get help and support in the following areas:
Stress
Crisis situations
Depression or anxiety
Money and budgeting
Relationships and family
Mental health and addictions
Grief counselling
Careers and employment
and more
Personal counselling is provided by a qualified, experienced counsellor and may involve referrals to other college services or community resources.