Thunder Bay & Our Location
The real Canadian experience - fresh, blue skies and clean, clear water, surrounding a thriving city.
Situated on the north shore of Lake Superior, the world's largest freshwater lake, Thunder Bay offers an exciting mix of urban and active lifestyles. The city is set against a backdrop of boreal forest, countless trail systems, pristine lakes and rivers, and the rugged Canadian Shield. Thunder Bay is a city that enjoys the best of all worlds. Across all four seasons, the region offers plenty of opportunities to experience Canada's greatness from geocaching to geology, canoeing to sailing, fishing in all seasons, hiking, jogging, running, skiing, snowboarding, cycling and much more. It offers all the amenities you would expect to find in a large city, yet without the hustle, bustle, noise, and pollution of big city living.
Some quick facts:
Thunder Bay is the sunniest city in eastern Canada with an average of 2121 hours (that's 305 days) of bright sunshine each year.
Gateway to Canada's great outdoors.
Only a 2-hour flight from Toronto.
Population of 108,359 people – regional hub of northwestern Ontario, an area the size of France!
Largest inland port in the world, shipping grain, potash and other commodities to all corners of the world.
A city with deeply rooted European and Indigenous cultures, Thunder Bay is the sixth most culturally diverse community of its size in North America. Some of the most represented ethnic backgrounds include Ojibway, Finnish, Italian, Ukrainian, Polish, French, Aboriginal Canadian, Chinese and Croatian. 
Learn more about Thunder Bay: GotoThunderBay.ca
---
Our Location
Located in the heart of Thunder Bay, Confederation College is proud of its beautiful campus, known for its green space, hundreds of established trees, and the McIntyre river that runs through it. Bicycle and walking paths crisscross the campus, linking students and residents to key spots within the city. It is not uncommon to see deer nibbling grass, Canadian geese preening themselves, and the odd fox making its way home.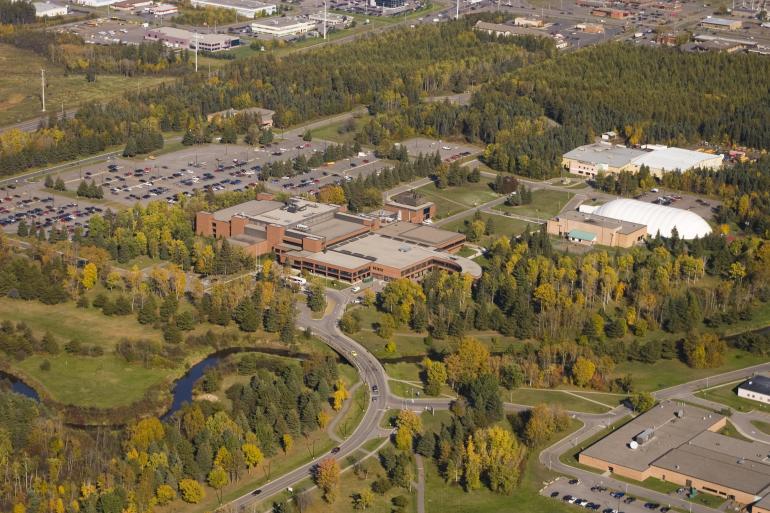 Travel to Thunder Bay:
Thunder Bay is a short 2-hour flight from Pearson International Airport in Toronto, Ontario.  Students should fly from Toronto to get to Thunder Bay; it is too far to drive or go by bus.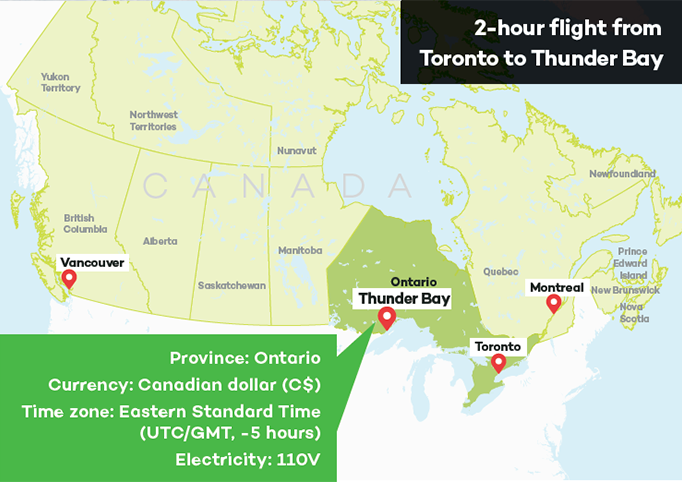 Students should book their connecting flight before leaving their home country. This will ensure the most economical air fare and will also demonstrate a clear travel itinerary, when clearing Canada Immigration. Watch the airline websites for seat sales and be sure to check out our arrival information and carry all your important documents with you.
Airlines:       Air Canada    ||    WestJet
Thunder Bay's international airport offers several direct flights to and from Toronto and Winnipeg every day.