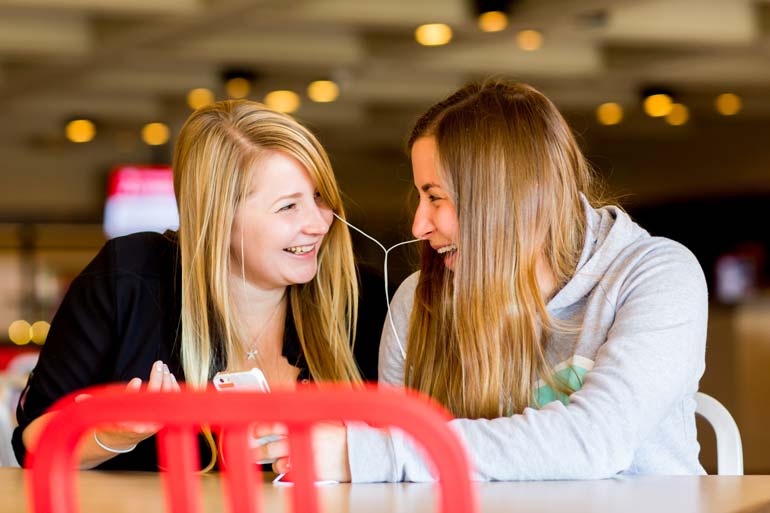 Welcome to Ryan Hall Cafeteria, the main dining hall located on the 2nd Floor of the Shuniah Building. This space has been designed to provide you with an enjoyable place to dine, and a relaxing place to study, featuring cozy booths and outlets to charge laptops and other electronic devices. The large communal tables in the space are also a great place for students to meet for study groups.
Ryan Hall also includes added touches like silver chairs made from recycled pop cans which are interspersed with the occasional red chair made from recycled bottle caps.
The quality, variety, convenience and flexibility of Sodexo help to make your dining experience the best ever! We aim to provide balanced nutritious meals with a wide variety of food choices to keep up with the latest trends.
We look forward to serving you and trust that your time at Confederation College will be both exciting and rewarding.
---
Dining Locations & Hours of Operation
Fall Business Hours: 

NOW OPEN AT 7:45AM!! 

Ryan Hall (Shuniah Building) 
Monday - Thursday : 7:45am – 8:00pm
Friday: 7:45 -- 7:00pm
Saturday & Sunday: 11:00am - 6:00pm 
ACE Building:
Monday - Friday: 8:00am – 2:00pm
Saturday & Sunday: CLOSED
Aspretto Kiosk
Monday - Friday: 8:30am – 4:00pm
Saturday & Sunday: CLOSED
Dorion Building : 
Monday - Friday: 8:00am – 2:00pm
Saturday & Sunday: CLOSED
McIntyre Building
Monday - Friday: 8:00am – 4:30pm
Saturday & Sunday: CLOSED
* All Locations are Closed on Statutory Holidays *