Athletic & Sport Teams
SUCCI, Your Student Association is proud to support and sponsor Athletics & Sports Teams at Confederation College. We offer competition opportunities in five Varsity sports and one sport team. SUCCI and Confederation College Athletics are members of and follow the same mission as the Ontario College Athletic Association (OCAA): contributing to the learning process by creating an environment which promotes academic success, provides a forum for personal development, compliments the educational experience, and enhances student life.
Students interested in becoming a Thunderhawk are encouraged to attend sport specific meetings. Watch for more information and register as an athlete to receive updates and information.
BENEFITS OF BEING A THUNDERHAWK​​
Enhance athletic ability and improve physical fitness & mental alertness 
No athletic fee; travel costs; or league fees
Build leadership skills
Develop college pride
Travel & represent Confederation College
Mentor on & off the field
Attend a top notch post-secondary institution which embraces Respect
Athletes receive a free Tbaytel sponsored athletic package
GENERAL INFORMATION FOR ALL ATHLETES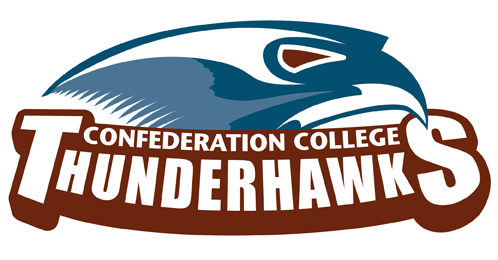 All players are expected to attend the majority of practices and local matches as well as all OCAA competitions. When selected to a varsity team, a player is expected to travel with the team to the OCAA regional or provincial championships. When necessary, arrangements to be away from class or work should be made well in advance. If issues arise with availability for travel, the Administrator, Campus Recreation & Athletics will assist with a resolution of those issues.
Varsity Athletics
Meet STORM
STORM, the Confederation College Thunderhawks mascot can't wait for the new season to begin! He'll also be at various events and activities around campus as well as throughout the community. If you see him, give him a hug or a crisp high five - he loves taking selfies too!
Follow us on Social Media
Keep up to date on schedules, highlights, and more!  ​Like us on Facebook: Thunderhawks Athletics & Sports
Thank you to our Supporters
The Confederation College Thunderhawks would like to thank the following for their support and assistance of SUCCI Varsity Athletics: 
FOR MORE INFORMATION CONTACT: 
Susan Tucker - Administrator, Campus Recreation & Athletics
Phone: (807) 475-6481
Email: Susan.Tucker@confederationcollege.ca
Visit the SUCCI Office off the Shuniah Student Lounge for more information.