Overview
The People Side of Business
When you think of business, you often think profit margins, cost analysis, customer service, marketing, managing risk and all the other things that go into making a successful company. But one of the most important resources any company has is its people.
Incoming first-year students should apply to the two-year Business - Human Resources program …
Confederation College's Business Administration – Human Resources three-year diploma program continues where the two-year Business – Human Resources program leaves off. As with that program you'll learn about accounting, marketing essentials, training, human rights in employment, business law & ethics and information systems. You'll also take advanced courses covering statistics, grievance procedures & arbitration and international human resources. Your last semester will be dedicated to a work placement so that you get real-world experience that will give you an even bigger advantage on the job market.
Highlights
Provides more job opportunities and career advancement opportunities than two-year program
Four-month

 

work placement in the last semester
Graduates will be able to write their Certified Human Resources Professional (CHRP) designation (subject to certain academic goals – see the Program Brochure for more information)
Continue on to a university degree through articulation agreements
 I am honoured to have such an education at MY community ...
Read More
The Business Faculty are extremely hardworking and dedicated professionals.  Conf...
Read More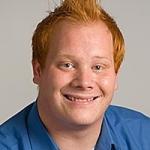 Trevor Hamalainen
Recruitment & Admissions Officer
Employment Opportunities
Graduates of the Business Administration - Human Resources three-year program find positions in a variety of private and public sector organizations including training, health and safety, pensions and benefits administration, personnel administrators, human resource managers, industrial relations officers, personnel managers, union representatives and other areas of HR.

Explore careers, current wages, employment stats, job postings, and associated education & training.
 
---
Related Programs