Grad Bears and More at Convocation (Alumni Services)

Are you graduating this spring? Congratulations, we want to help you celebrate!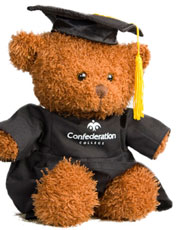 ---
On Graduation Day be sure to watch for: 
Our Convocation Celebration following the ceremony! Check out the tent outside the Community Auditorium for snacks, refreshments, alumni info and more! Hosted by Confederation Alumni.
Graduation bears, picture frames, flower bouquets and other mementos will be for sale at the Community Auditorium.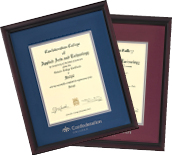 ---
Show off your success!
Diploma frames are now available for pre-order.
ORDER YOUR DIPLOMA FRAME TODAY
Choose one of two frames to display your diploma in the years to come.
You can also purchase a frame before or after the convocation ceremony.
Please contact Alumni Services at (807) 475-6496 or email alumni@confederationcollege.ca for more information.
 
---
Did you know that as a graduate of Confederation College you are a lifelong alumni and eligible for free benefits and services?

Stay connected to fellow Alumni, upcoming events, services, opportunities specifically geared towards our graduates and more!