You are here
Wesley Grace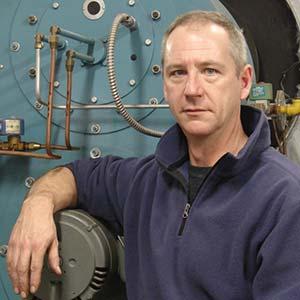 Professor
Why/How I Became a Teacher
One of the most fulfilling aspects of my career as a Power Engineer has been in offering the benefit of my knowledge and experience with others. In return, I have been rewarded with their insight and fresh thinking. It occurred to me one day that in a sense I had been a teacher all these years and a student at the same time. When the opportunity came up at Confederation, I was drawn to it. I look back from time-to-time and think that my true payment for all the years of study and hard work has been realized in the classroom and in the lab through the learning relationships I have with my students.
What I Like Most About Teaching
Teaching is just…awesome! There are so many positives, it is difficult to describe here. I would have to say that the highlight of teaching for any faculty member, me included, is that rush of emotion that comes with watching a student walk the stage at graduation and shaking their hand for possibly the last time.
My Educational Background & Qualifications
I am a graduate of the Mechanical Engineering Technician Program here at Confederation. I hold an Interprovincial Second Class Operating (Power)Engineer Certificate of Qualification.
My Relevant Experience in the Field
My experience as a Power Engineer has come by way of pulp and paper, wood products manufacturing and preservation, water treatment, building heating systems, industrial fire prevention and protection and several years as a health and safety committee co-chair.
My Hobbies & Interests
I have done a lot of different things through the years. I was an avid hunter for many years, took years of lessons in music and martial arts and many other things. I've always liked to try new things. And my main focus has always been on my family.
Program(s)