Overview
Program Codes
September/Fall start: (0351), January/Winter start: (0352), May/Spring start: (0358)
Information Communication Technology (ICT) Solutions for Small Business is a two-year program.
In this two year, graduate certificate program, students develop marketable technical, business management, and interpersonal skills, all of which respond to the pressing ICT needs of businesses in all sectors of Canada's economy.  Students hone their technical skills, creating commercial applications and ICT solutions for SMEs (small and medium size enterprises).  At the same time, they gain training in Canadian workplace business practices, entrepreneurship, and interpersonal dynamics.  Combined, these help internationally trained graduates obtain employment that is commensurate with their skills and qualifications.
The program enables students to become proficient in the practices and techniques used in modern ICT infrastructures. Students learn how to develop and implement practical solutions to solve typical ICT problems and challenges faced by smaller companies & businesses.  Instructional methodology integrates theory with real-life simulations and hands-on applications.  Students apply their acquired knowledge and skills to industry-based cases, simulations and projects, working on both individual and several collaborative team projects.
Students also advance their problem solving, presentation and critical thinking skills throughout the period of study.  They then bring all this training together in a capstone project in the final semester, where they manage and complete a technical project in collaboration with industry.
Upon graduation students are prepared to use a combination of technical, business, and soft/interpersonal skills to help small and medium sized enterprises achieve success within the digital economy. 
Additionally, graduates have the option to take the exam for the Cisco Certified Entry Networking Technician (CCENT) certification.
HOW TO APPLY
International students: Apply for this program using the online application, or contact our International Education Centre for more information.
Canadian students: Please be aware that this program is offered on a full-tuition, cost recovery basis, and full fees apply. For more information please contact our Admissions Department or phone (807) 475-6213.
Tuition Fees:
$16,857 + $1,555 program costs (2019/20)
Employment Opportunities
Graduates may use their skills in any variation or cross combination of the following occupations based on the needs of a particular small to medium sized enterprise.
Computer and network operators and web technicians
Computer programmers and interactive media developers
Software engineers
Computer and information systems managers
Database analysts and data administrators
Web designers and developers
Computer engineers
User support technicians
Systems testing technicians
Related Programs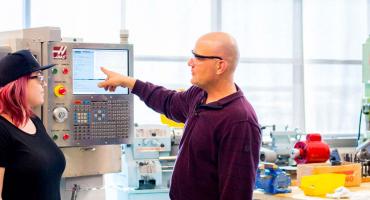 Engineering Technology, Aviation