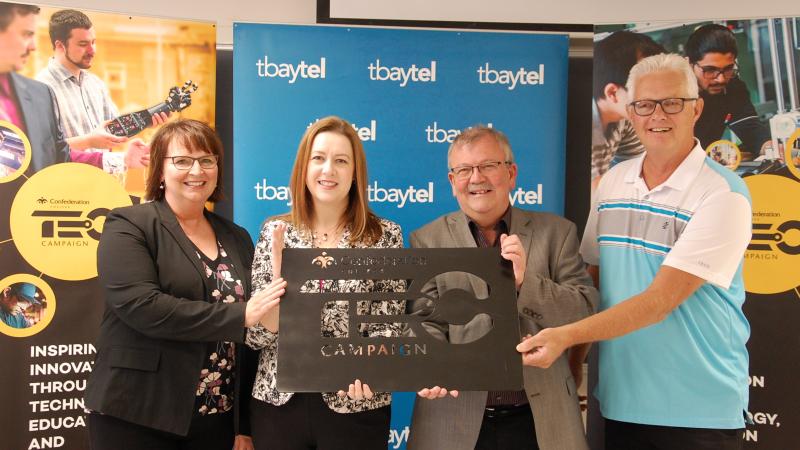 $5 Million Campaign to Support Renewal of Equipment for New TEC Hub
May 17, 2018, THUNDER BAY, ON – Confederation College proudly and formally launched its 'TEC Campaign' Thursday with a $200,000 multi-year contribution from Tbaytel. Inspiring innovation through technology, education and collaboration, the 3-year, $5 million capital campaign will support the renewal of equipment to ensure the new TEC Hub will provide the latest and most advanced equipment for learners.
"This campaign will enable us to further expand the opportunities available to our students and communities," said Jim Madder, President of Confederation College. "Through the renewal of equipment, our TEC Hub classrooms, shops and labs will benefit from enhanced capacity for learning and environments that are flexible and adaptable to the consistently evolving educational and training needs. Tbaytel has been a tremendous and long-term supporter of our College and our community and their contribution to our TEC Campaign is a continuation of that generosity. We are grateful for their ongoing commitment to education in our region."
Through a previously announced $2 million commitment from the Northern Ontario Heritage Fund Corporation (NOHFC), Tbaytel's contribution will be further leveraged through matching dollars, multiplying Tbaytel's impact. In recognition of its support, the TEC Hub's Open Access Innovation Commons will be named for Tbaytel.
"One of our goals at Tbaytel is to support those initiatives and organizations in the communities we serve whose priorities match our own, which includes ensuring that Thunder Bay and northern Ontario benefit from the creation of jobs and other economic impacts," said Amy Meunier, Tbaytel's Director of Marketing and Communication. "The equipment this campaign will support for Confederation College's new TEC Hub is a prime example of creating a learning environment that will help to sustain a skilled workforce across a number of sectors that employers in our region will benefit from, both now and in the future."
Through its contribution, Tbaytel acts as an important example of how Confederation's partners and communities can directly change a life through learning. The TEC Campaign will fund equipment ranging from multi-axis CNC milling machines and production grade 3D printers to autoclaves and makerspace/youth outreach equipment. This leading-edge equipment will support the hands-on experiential learning Confederation College is known for. The campaign is being championed by a Volunteer Leadership Team including Chairperson Emilio Rigato and members Colin Bruce, Don Campbell, Lyle Knudsen, Georjann Morriseau, Michael Nitz and Craig Urquhart.
"I am honoured to be working with Confederation College and these community leaders to contribute to the advancement of educational and workforce development opportunities for our region," said Emilio Rigato, TEC Campaign Chairperson. "On behalf of the group, I thank Tbaytel and NOHFC for helping us to kick-start our campaign through their generous support. I also call out to and urge organizations and members of our community, region and beyond to strongly consider contributing to this campaign. There are multiple ways for all levels of donors to make a meaningful impact."
To learn more about how you can play an important role in making Confederation College's vision for students a reality, visit www.confederationcollege.ca/TEC-campaign.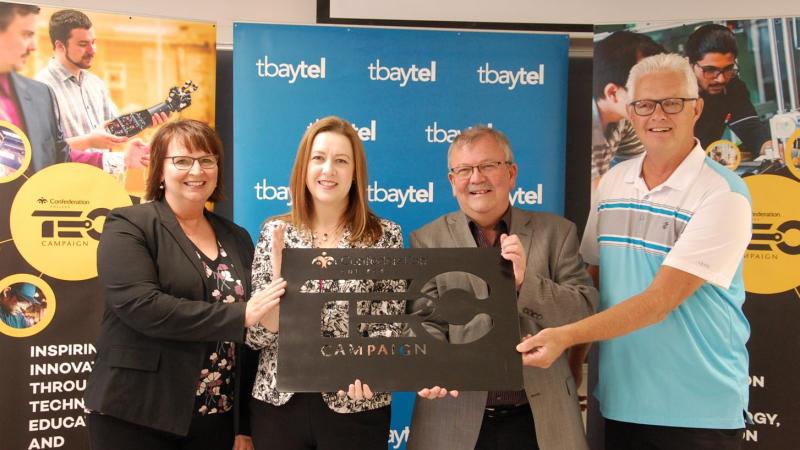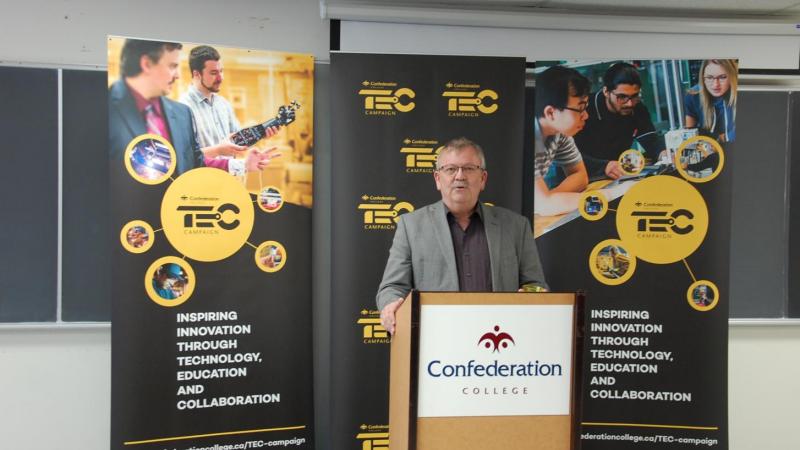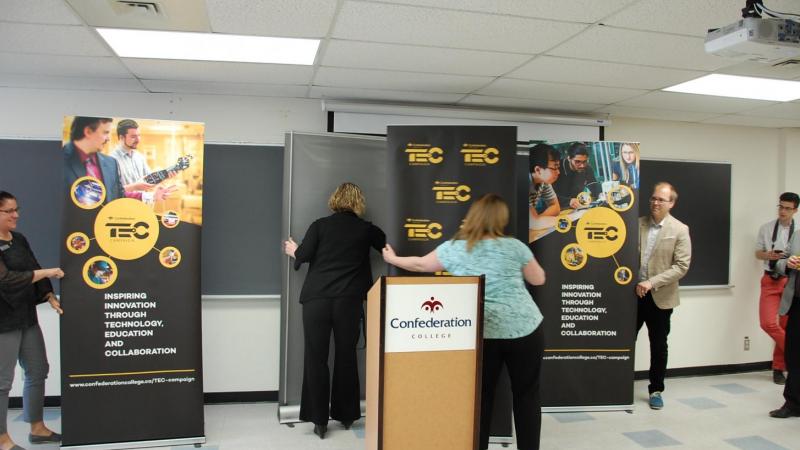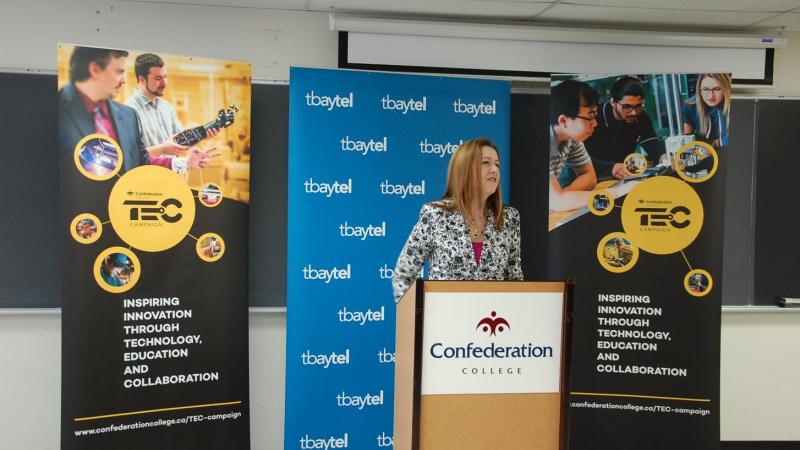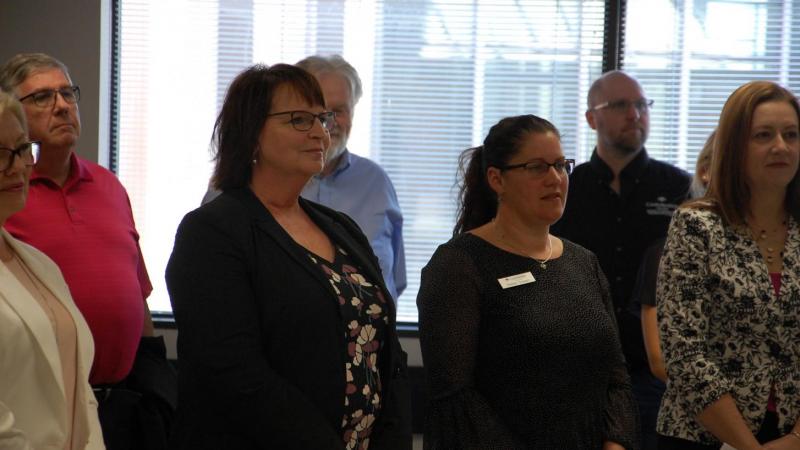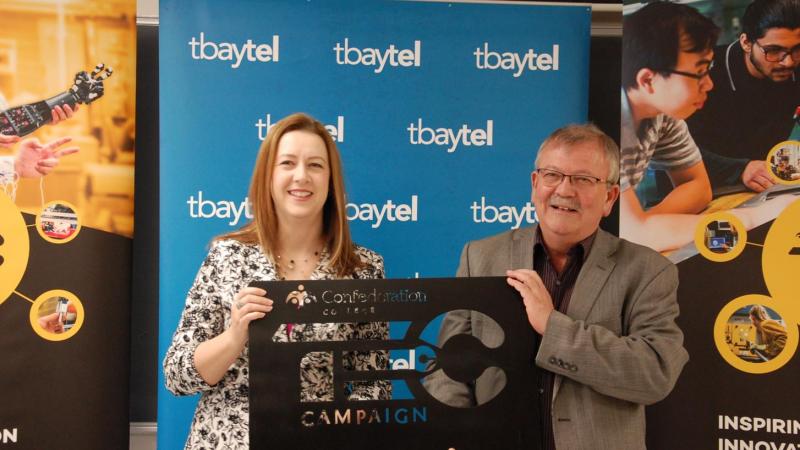 Confederation College 'TEC Campaign' Launched with $200,000 contribution from Tbaytel. Pictured from left, Tbaytel's VP of Sales, Marketing and Communication Kathleen Jones and Director of Marketing and Communication Amy Meunier, as well as Confederation College's President Jim Madder and Campaign Volunteer Leadership Team Member Don Campbell.
-30-
Confederation College has been serving the citizens of northwestern Ontario since 1967 meeting the educational needs of students in a catchment area of some 550,000 square kilometres. Along with its main campus in Thunder Bay, Confederation College has eight regional sites located in Dryden, Fort Frances, Geraldton, Kenora, Marathon, Sioux Lookout, Red Lake and Wawa. 
Confederation College delivers exceptional education and training to an average of 6,500 combined full and part-time students per year and currently has a total of 805 full and part-time employees. Confederation's regional economic impact and contribution is valued at $411.2 million annually.
For more information, please contact:
Ashleigh Quarrell, Manager, Marketing and Communications
Ph: (807) 475-6565, Cell: (807) 632-5296, Email: aquarrel@confederationcollege.ca