Supervised Testing Centre for a wide variety of tests, for both inside the College as well as for external clients.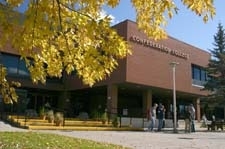 Location & Hours of Operation
Location:  Room 339A (3rd Floor, Shuniah Building, Thunder Bay campus)
Phone:  (807) 475-6476
E-mail:  testingcentre@confederationcollege.ca
Testing Services Facilitators:
Cathy Maydo and Trevor Hamalainen
Invigilators:
Debora Matthews, Debbie Gregory and Arlene Danyleyko
What's New?
Effective September 2017, there will be a $50.00 proctoring fee for non-Confederation College OntarioLearn students (i.e. if the registering college is not Confederation).
We are pleased to offer online booking forms for OntarioLearn examinations at the Thunder Bay campus, as well as for examinations for external clients (e.g. Athabasca).
Testing Times:
All testing times must be arranged and booked in advance.
Monday to Thursday, 9:00 a.m. - 3:00 p.m.
Wednesday Evenings, 5:30 p.m. - 9:00 p.m. (Confederation College students by appointment only)
Friday, 9:00 a.m. - 12:00 p.m. (Confederation College students only)
Office Hours:
Monday to Thursday, 8:30 a.m. - 4:30 p.m.
Friday, 8:30 a.m. - 12:30 p.m.
ALL PAYMENTS are to be processed through the Information Hub, located on the 1st Floor of the Shuniah Building.
For MSA results, please contact Adair Conlon at (807) 475-6123.
For Academic Upgrading Assessment results, please contact Academic Upgrading at (807) 473-3723.
The Testing Centre does not administer GED Testing at this time. Please visit the Independent Learning Centre's website for further information.
Photo Identification & Payment Required at Time of Test.