Student Elections
Become a Student Leader and make a difference in your college and community!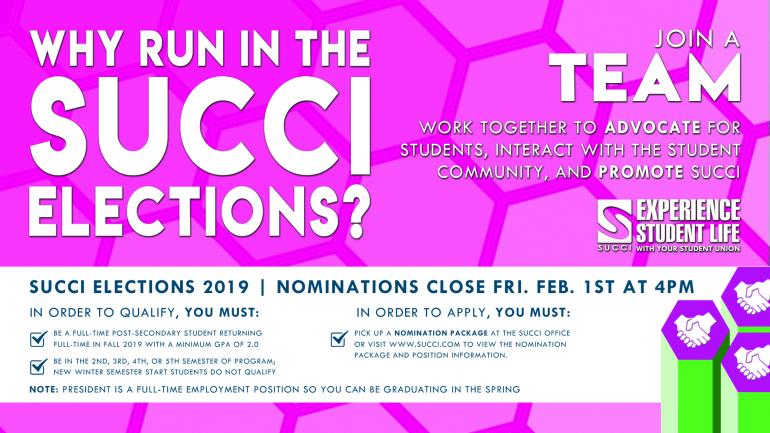 Any full-time post-secondary student at the Thunder Bay campus is eligible to run for a position on the SUCCI Board of Directors provided they meet the requirements of office. Candidates are required to maintain a minimum Grade Point Average of 2.0 and must be returning to school full-time in Fall 2019. The GPA is determined by the potential candidate's marks from the previous semester, as held by the official records in the Office of the Registrar of the college.
Special consideration will be provided to a student confirmed by the Student Accessibility Service as a student with a disability. Students commencing their first term at Confederation College as a new student in Winter 2019 are ineligible to run in the annual elections. Students re-entering Confederation College in Winter 2019 who do not have a Fall 2018 semester GPA must have a minimum GPA of 2.0 for the last year for which they were in attendance at Confederation College. Special consideration may be provided to a student re-entering the college after an absence of 3 years.
A candidate running for a position of Senator must be a full time student in the respective school of study for the duration of their elected term of office.  If an elected Senator changes their school of study once elected to represent that school of study, they will automatically forfeit their position as Senator.
To qualify as a candidate, you must:
Attend one of the Information Meetings
Hand in the completed Nomination Package
Provide a letter of recommendation indicating that you are a good role model and would make a good student leader from a faculty member, or other college staff person

Nomination packages must be completed and returned to the SUCCI Office no later than 4pm on Friday February 1st, 2019.
View SUCCI's Election Policy - CLICK HERE
   
Student Board Positions
Consider running for one of the following positions:
(Click on the positions below to view Job Description)
President (full-time position May 1st - April 30th) $36, 235 honorarium
VP External – $400/month honorarium
VP Internal – $400/month honorarium
Director of Athletics – $278/month honorarium
Director of Social Events – $278/month honorarium
Director of Student Wellness and Diversity – $278/month honorarium
Senator of Aviation – $278/month honorarium
Senator of Business, Hospitality, and Media Arts – $278/month honorarium
Senator of Health, Negahneewin & Community Services – $278/month honorarium 
Senator of Technology – $278/month honorarium