Thunderhawks Women's Indoor Soccer Team
The Thunderhawks Women's Indoor Soccer Team competes in city league play and weekly practice/training sessions in preparation for the OCAA Regional Championships happening Tuesday March 5th, 2019 and will be hosted at Seneca College. Cody Atkinson and Mike Fabiano are aiming to create an environment in which hard-working, dedicated student athletes will prosper.
Team Philosphy:
 If you focus on results you will never change.
If you focus on change you will get results.
2018-19 Team Roster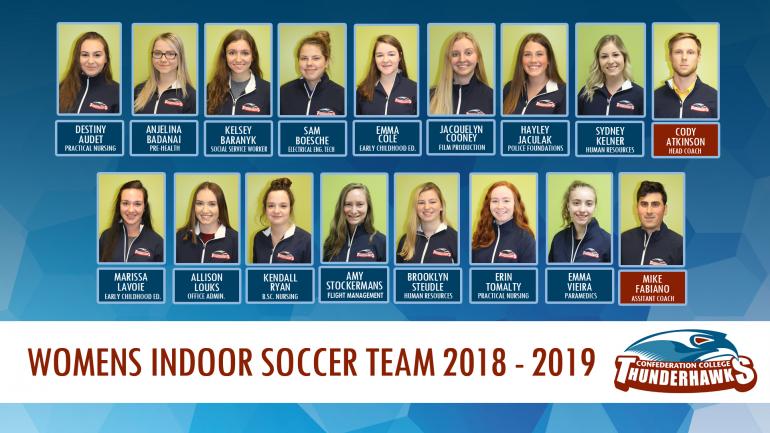 Player of the Month (October 2018)

  "Amy Stockermans is the first athlete of the month of 2018 Thunderhawks Women's
   Soccer Program.  She has consistently been a prime example of the hard working culture being fostered."
Coaches:
Head Coach - Cody Atkinson has been involved in the soccer community for over ten years as a player and a coach. He has assisted with competitive youth programs and the Confederation College men's team. Cody also has experience coaching and developing athletes from his several years as a high school head coach. Email Me
 Assistant Coach - Mike Fabiano Email Me
For More Information Contact:
Susan Tucker Administrator, Campus Recreation & Athletics
Phone: 807-475.6481
Email: Susan.Tucker@confederationcollege.ca
Visit the SUCCI Office off the Shuniah Student Lounge.