Thunderhawks Men's Indoor Soccer Team
The Men's Indoor Soccer Team compete locally as a part of a league and provincially in the OCAA Regional Championships happening Tuesday March 5th, 2019 and will be hosted by Seneca College. The team motto is "If the plan doesn't work, CHANGE THE PLAN but NEVER THE GOAL" and is the driving force behind the coaching staff of our team. Frank Fabiano and Marco Chiappetta are changing the environment of the squad and they focus on discipline, dedication, and determination to academics, teammates, and the program. Players are provided the opportunity to be part of a goal oriented and team oriented environment.
Team Roster - 2018 - 19

PLAYER OF THE MONTH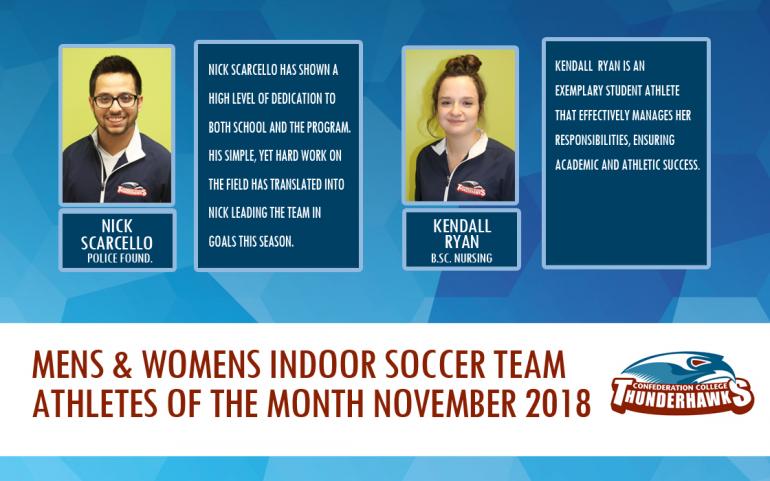 GAME SCHEDULE - TBA
Wed Jan 16         8:00 pm                  Thunderhawks vs Syncor FC
Fri Jan 18              10:00pm               Thunderhawks vs United
Wed Jan 23          10:00 pm               Donisi Calcio vs Thunderhawks
Fri Jan 25              7:00pm                 Thunderhawks vs LEX U16B Blue
Fri Feb 1               7:00 pm               LEX U18B vs Thunderhawks​
Fri Feb 8               8:00pm                 Thunderhawks vs Los Galacticos​
Wed Feb 13        10:00 pm                LEX U18 Boys vs Thunderhawks
Fri Fe 15               10:00pm               Blue Thunder vs Thunderhawks​
Fri Feb 22             10:00pm               Thunderhawks vs Donisi Calcio​
Fri Mar 1              6:00pm                 LEX U16B White vs Thunderhawks​
Fri Mar 8              6:00pm                 Thunderhawks vs Thunderwolves
All games are played at the Goal Sports Centre (old Fitness Centre Bubble).  Admission is FREE.  
The Thunderhawks would love to see their fans come out and cheer them on!
TEAM PHILOSOPHY
Dedication + Hard Work + No Excuses = SUCCESS
PLAYER REQUIREMENTS
Extremely important to a maturing program and this year we are looking to change how we will be developing our roster and future rosters.
Defining Luxury Players
Not on the official roster but are required to attend all events - practices, team outings, games etc.
At any given time, will be provided the opportunity to temporarily or permanently be part of the official roster when required for games or travel​
COACHES
Head Coach - Frank Fabiano has been an active soccer coach in the Thunder Bay competitive soccer scene for over 20 years. He has 11 years of experience developing team building, leadership and management skills with soccer players of all ages & levels. Frank has been the Head Coach and lead program development for Thunderhawks (men's and women's) Soccer for four years. Email Me
Assistant Coach - Marco Chiappetta  Email Me​
For More Information Contact:
Susan Tucker Administrator, Campus Recreation & Athletics
Phone: 807-475.6481
Email: Susan.Tucker@confederationcollege.ca
Visit the SUCCI Office off the Shuniah Student Lounge.