Thunderhawks Golf Team
With ten golf courses within 20 minutes of the Confederation College Campus, it's no wonder that this is such an extremely popular sport. The Thunderhawks have done well in OCAA Provincial play, receiving silver and bronze medals in Division II level.
A team of 5 golfers and coach will travel to compete at the OCAA Provincial Golf Championships from October 2nd - 4th, 2017 at the Crimson Ridge Golf Course in Sault Ste. Marie, ON hosted by Sault College.
Results
For information, updates, news, results, and photos from the 2017 OCAA Golf Championships, visit: www.ocaa.com/championships/golf/2017-18/index
2017-18 Team Roster
Nathan Lohnes

Cam Zappitelli

Tyson Morrisseau

Ryley Plewes

Ben Erwin
 
Coach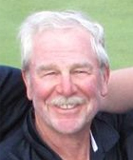 David Reid has been a member of our coaching team for the past 7 years.
Under his guidance and leadership, the Thunderhawks have seen success both personally and professionally at the OCAA Provincial Golf Championships. He is well respected within the golf community and this enables him to offer great opportunities to our team.
Team Photo Archive