Registration Services will guide you through your time at Confederation College once you have accepted your "Offer of Admissions". This includes registration into courses, recording of marks, transcripts, diplomas and Convocation ceremonies.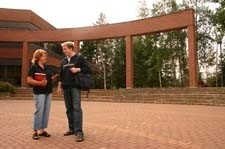 Welcome new and returning students! Here you will find the information you need to register for your classes as well as other services which are described below. We are located at the Thunder Bay campus, on the first floor of the Shuniah Building, the Information Hub.
Our Mission
We are dedicated professionals committed to providing  guidance and information that will foster student success.
Important Upcoming Dates:​
Forms
We can help you:
Contact Us:
You can visit us in person:
Information Hub located in the main Shuniah Building, Thunder Bay campus.
Hours of operation:
Monday to Friday 8:30 am - 4:30 pm (excluding holidays)
You can also send us an email registrationservices@confederationcollege.ca or give us call on our live line (807) 475-6265. Our fax number (807) 473-3731.
---
Check out these other important areas: