Our newest campus is in Red Lake (June 2011), the third stop in the western leg of our campus journey.
 This article is part of a series entitled "Know Your Regional Campuses" (KYRC) - Red Lake Campus … an opportunity to become more familiar with our regional campuses, some of the people who work there, and the unique communities in which they reside, along with a little history of the area.
Sunrise in downtown Red Lake.
"Norseman Float Plane Capital of the World"
Red Lake is famous as the "Norseman float plane capital of the world." They host a Norseman float plane festival every summer to celebrate Canada's iconic bush plane, which began its history in the area during the mid 1920's. You can't miss the iconic yellow Norseman plane, memorialized at the Norseman Heritage Park located at the water's edge in the centre of downtown.
Red Lake's Booming Economy (fuelled by Gold)
Red Lake, a gold mining town, is located at the north end of highway 105, north east of Kenora and north west of Dryden, beyond Ear Falls, and next door to Balmertown and Cochenour. There is high activity in Red Lake area these days, as evidenced by my total inability to secure accommodation there. All motel rooms in town and in surrounding communities even an hour away were fully booked!
| | |
| --- | --- |
| A sunset view approaching Red Lake | One of a number of gold mines in the Red Lake district |
Red Lake is home to a variety of shopping and restaurants, including Tim Hortons which is located next to the Super 8 hotel.
| | |
| --- | --- |
| New Super 8 hotel - Red Lake | Tim Horton's, right next door to SUPER 8 |
Students from as far away as Morocco!
I met a student there who moved to Red Lake with her husband from Morocco (to work at the mine). Another mature student I talked to had worked in one of the local mines before injuring his back, so he was coming back to school for retraining. At all of our campuses, we are clearly serving the educational needs of students of all ages and even diverse cultural backgrounds.
Hind - a student originally from Morocco
taking Business - Accounting

Denise - student & grandmother - Native Child & Family Services program
Monty
Business Fundamentals

Tammy
Business - Human Resources
Campus Profile in the Community
I talked to one white-bearded old timer, (who looked like he would make a great Santa Claus) who was pumping gas at the corner gas bar, said he has very happy for the college presence in the community (he was a retired high school teacher), but was concerned that not enough people in the community were aware of our new campus and what we had to offer. He also told me some of the history of the former owner of the lodge on which the campus is now situated. The lodge was renovated (to perfection) by an American, who inherited patent dues from the powder recipe used in JELL-O. Today, new owners are enjoying the space, including the College who gets to enjoy the whole basement with the lake view all across the whole side of the building. 
Red Lake Regional Heritage Centre
The area history is showcased magnificently at the new Red Lake Regional Heritage Centre … a must see that includes the area's history of mining, aviation, medical, education, fur trade and Indigenous people. Admission is a bargain at $3 for adults, and is open year round. Check out their website at www.redlakemuseum.com.
| | |
| --- | --- |
| Red Lake Regional Heritage Centre has quite an extensive Norval Morriseau art collection. Morriseau (born in Beardmore) spent a number of years painting in Red Lake. | Aboriginal ceremonial drum display |
| | |
| --- | --- |
| HUGE 32 ton, 6-cylinder diesel engine generator - used at the former Madsen Mine as an emergency backup power source. | Now this behemoth engine can be seen at the entrance to the Red Lake Regional Heritage Centre |
| | |
| --- | --- |
| Central Aboriginal display with huge b&w historical photos overhead around the room | The tools of the trade of dentistry & other professions |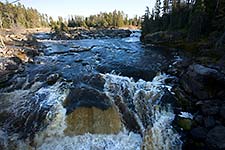 A spectacular view of the Wabagoon River, early on in the drive to Red Lake.