Program Highlights
Support the pursuit of postsecondary
Provide financial assistance
Program Overview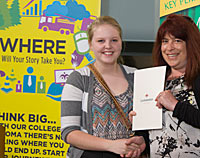 Annually, high schools in northwestern Ontario can refer up to five Grade 11 students for full time post-secondary programs* (Some programs are excluded from the early acceptance program.) at Confederation College.
Confederation Bound is offered at all Confederation College campuses including: Dryden, Greenstone, Lake of the Woods, Rainy River District, Red Lake, Sioux Lookout, Wawa, Northshore and Distance Education.
Confederation College will issue conditional offers to the selected grade 11 students.
These students will apply for their program in Grade 12 through the Ontario College Application Service (OCAS) by the deadline.
Students must meet all entrance requirements for their chosen programs.
Once students are registered in their programs, they will receive an Entrance Award of $1000 paid in 2 installments.
If you have any questions, please contact the Recruitment Team at Confederation College.
Phone: (807) 475-6110
Email: info@confederationcollege.ca