Overview
Note: This program is under review. 
Content and focus may change for September, 2017.
Contact our International Education Centre for more information …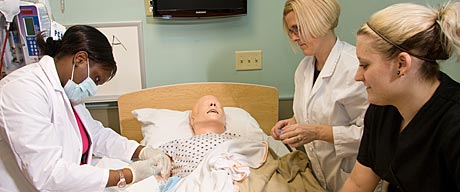 Critical care nurses are highly knowledgeable and skilled health care professionals. They work in a critical care unit in collaboration with members of the health care team to provide optimum holistic care.
Program Purpose:
Assist internationally trained nurses to enhance knowledge and skills in critical care nursing, and nursing in Ontario through theory and simulated nursing practice.
Students study specialized areas of neuroscience, physical assessment, cardiac care, respiratory care, gastro intestinal, endocrine and renal critical care.
Upon successful completion of the program, nurses will be better prepared to write their RN or RPN entrance examinations.
Provide an Ontario College Graduate Certificate approved by Credential Validation Service (CVS).

 
How to Apply
Domestic (Canadian) students may also apply to this program.  However, domestic students should be aware that it is offered on a full-tuition, cost recovery basis, and additional tuition fees apply. For more information please contact our Admissions Department or phone (807) 475-6213.
Tuition Fees and Other  Costs
$14,000 tuition per year + $2,775 ancillary fees (2017/18); Total = $16,755 CAD
Related Programs