Testimonials for Marley Joblin
Finishing the Child and Youth Care program with honours and continuing my learning within the addictions field has also been something that has brought me great pride.
My Most Positive Memory of Confederation College
I made so many positive memories and had numerous positive experiences while participating in this program, but if I was to choose just one to share I would have to say the experience of being placed out into the field on placement and the memories I made there. Having hands-on experiences within the classroom setting in the form of role plays and guest speakers helped me to feel prepared when entering into my placements.
A Teacher Who Made A Difference
I was inspired by the passion from each of my teachers but one in particular, Michelle Kostick was and forever will be someone I consider a mentor, her overwhelming faith in my abilities helped me to see myself as competent and capable of making a difference in the families lives that I have encountered within my professional career.
My Job Responsibilities
My current position at The Children's Aid Society Thunder Bay, is a Family Support Worker. As a Family Support Worker I am committed to the families I serve. My passion for my current position fuels me in providing the best service possible, and my understanding and prior knowledge learnt within this course enables me to apply techniques that assist me in creating individualized supports. I build therapeutic relationships with the clients I work with through trust, honesty, care, empathy and respect –which are all skills I learnt through extensive self-exploration within the Child and Youth Care program. I observe parent-child interactions and family dynamics and through these observations I highlight strengths and collaboratively work on barriers with clients. Being a part of a multi-disciplinary team and coming together to implement the best service possible for the families we serve and watching it impact families in a positive way gives me the most satisfaction within my role.
How Confederation College Has Prepared Me for Work in the Field
My time spent at Confederation College taught me all of the skills I currently have and fostered the passion that was already pre-existing within me. The competencies within this course that have carried with me since taking the Child and Youth Care program are, how to conduct myself in a professional manner, communication skills both written and oral, how to work within a team setting, the ability to problem solve, and how to plan and organize efficiently. The things you will learn if you choose to enroll in the Child and Youth Care program will stay with you forever. It is a passion-fuelled program that will challenge you interpersonally transforming you into what you were always meant to be if you engage in the process whole heartedly.
The Most Sought-After Qualifications & Talents That Employers are Currently Seeking
From my experience the most sought after skills and qualifications for employers who are currently seeking Child and Youth Care Practitioners is someone who is passionate, professional and has a unique skill set that sets them apart from other successful candidates. Having the opportunity to work within an agency that fosters my creativity, that is respectful, team oriented and has given me multiple opportunities to continue my learning is one of my greatest achievements.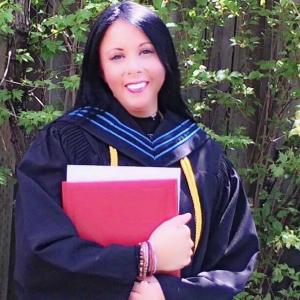 Marley Joblin
Alumni
Graduation Year:
2016
Job Title:
Family Support Worker
Employer:
The Children's Aid Society
Program:
Child and Youth Care