Overview
Note: Intake for September of 2019 will commence on October 1, 2018 through the Ontario Colleges Application Service (OCAS).
---
Be a Hero to a Child or Youth
Not everyone has a smooth childhood growing up. Some have an incredibly difficult time due to family circumstances, mental health issues, problems at school and/or addictions. Would you like to create meaningful change in the life of a child?
Confederation College's Child and Youth Care (CYC) advanced diploma program will give you the skills and knowledge to become an effective support for vulnerable children and their families. Through a wide range of courses including trends in child and youth care, sociology of family, youth substance use and marginalized youth and crisis experiences, you will be provided with a solid foundation to engage relationally while being developmentally responsive, trauma-sensitive and self-reflective. You will also gain a strong understanding of issues of oppression and racism, along with approaches to support healing and wellness for Indigenous youth.
An ability to foster resilience and self-advocacy with young people and their families will contribute to achieving social justice and be the cornerstone of your professional identity. Field placements will give you on-the-job training in a variety of environments.
Highlights
A comprehensive, hands-on program will teach you how to effectively help youth and children in need
Field placements each year provide hands-on experience with community organizations
You will learn about key CYC issues including oppression and racism, healing and wellness, crisis intervention and social justice 
Program is directly connected with several community partners
Finishing the Child and Youth Care program with honours and co...
Read More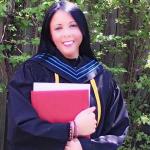 Marley Joblin
Family Support Worker
My most positive experience as a student of Confederation College was during my 3...
Read More
Holly Rocco
Youth in Transition Worker
Employment Opportunities
Graduates of this advanced diploma program are qualified to pursue careers serving vulnerable and high risk children and youth and their families in categories such as: Child & Family Disclosure Worker, Child & Youth Worker, Intake Screener, Program Assistant, Children Services Worker, Clinical Administrative Assistant, Case Manager, Addictions Worker, Residential Worker and Early Intervention & Aftercare Worker. Settings that Child and Youth Care Practitioners are employed include; mental health residential and day treatment centres and outreach programs, child welfare case management, group homes and foster home networks, schools including alternative school programs, youth justice custody facilities and community programs including diversion programs, substance abuse prevention and residential treatment programs, early intervention and prevention programs, adolescent psychiatric inpatient and community based programs.
VIEW: Child and Youth Worker - Current Job Listings (Thunder Bay) …

Explore careers, current wages, employment stats, job postings, and associated education & training.
This is a project that our students were directly involved with.
Accelerated Program
Related Programs