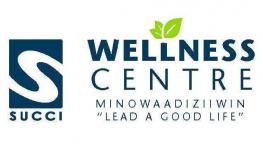 After more than a year of construction and a lot more years of planning, we are so very excited to be opening the doors of the new SUCCI Wellness Centre, Minowaadiziiwin this Saturday!! Starting at regular operating hours on Saturday, September 30 (7:00am), the new Centre will open to students, employees and members of the public. The existing Fitness Centre/Bubble will be open until regular closing time on Friday, September 29.
During the first week of operations in the new Centre (until Oct. 6), employees and members of the public are invited to stop in for a free trial to see what it's all about.
We will be hosting an official Grand Opening of the Centre mid-November after we've had a chance to move in and get fully settled. Be assured, everyone will be invited!
So get ready to get moving in the new SUCCI Wellness Centre, Minowaadiziiwin starting Saturday! Storm (our Thunderhawks mascot) already snuck in his first work out to show you what to expect in the new Centre…