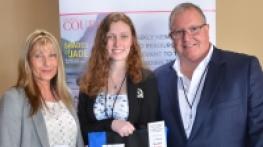 Tourism - Travel and Eco-Adventure students have been busy recently. Students Danielle Murray and Jessie Stuart attended a Baxter Travel Media awards reception in Toronto in pursuit of a spot in the Baxter Student Ambassador Program. Danielle Murray was the Confederation College recipient of the mentorship experience. And, through a new collaboration with Mariott TownePlace Suites Thunder Bay, all students of the program had the opportunity to gain hands-on experience in a hotel setting during the winter semester. See the full stories…
Baxter Student Ambassador Program (BSAP)
BSAP is the only travel and tourism student mentoring program of its kind in Canada, offering learning and networking opportunities for aspiring travel industry professionals. The program is based on a combination of academic success, industry and community involvement, leadership skills and a skill-testing webinar presentation – once the program is completed, one graduating student from each participating school is selected as the Baxter Student Ambassador winner.
This year's Confederation College winner was Danielle Murray who was awarded an 8-week internship at Sandals Resorts in St. Lucia, as well as a trip for two to Cuba and numerous industry memberships. Jessie Stuart was the runner-up. Both students earned the chance to compete for entry into the BSAP through a program-wide competition in Thunder Bay. Congratulations to both competitors!
More details on Travel Press…
---
Marriott Collaboration
Throughout the winter semester, students were given opportunity to gain hotel experience by participating in a sampling of typical industry tasks at Mariott TownePlace Suites Thunder Bay. Each student started their day at 7:45 a.m. and spent seven hours with the staff, experiencing various duties such as Front Desk, Housekeeping, Maintenance and Sales, plus were able to shadow the General Manager (Greg Holden) and the Front Desk & Revenue Manager (Terri Parry).
Students thoroughly enjoyed the experience and had this to say…
"It was absolutely worthwhile. I considered this so interesting that I would propose you to repeat this experience each semester, Practical learning is always the best method to teach something"  -Jorge Reyes
"I think the placement was definitely worthwhile. They asked me what I wanted to learn about the hotel and made sure that I was able to spend plenty of time doing what I enjoyed and what I wanted to do most. I had an awesome experience and don't think there could have been any improvements on my time spent there."  -Chelsea Cloutier
"Having a chance to see how the hotel industry works made me consider a career in this field that I would not have considered otherwise, it was a great experience and the staff were friendly and informative. This opportunity made me want to work in the hotel industry and was very enlightening."  -Danielle Murray
Both Confederation College and Marriott TownePlace Suites Thunder Bay agreed the partnership was a success and look forward to continue working together in the future.
"This is a great start to hopefully a long-term collaboration with the Marriott," said teacher Matthew Villella. "As a program we decided it would be great if we could set up an opportunity for students to gain some hands-on experience in the hospitality field.  The Marriott was enthusiastic and excited about this opportunity and did a wonderful job in making our students feel welcomed. We look forward to working with Marriott in the future and expanding on this collaboration for future classes."
Terri Parry, Front Desk & Revenue Manager for the Marriott, added "We were quite excited at being approached as the host hotel for the Travel & Tourism class placements. Each student that spent time with us seemed to genuinely enjoy the experience as did all of our staff. It was a welcome opportunity for those of us in the business to share our knowledge and maybe even pique someone's interest enough to consider a career in the hospitality industry. I am confident in saying this placement program was a mutual success and look forward to future opportunities with Confederation College."
---
For more information about the Tourism – Travel and Eco-Adventure program, visit www.confederationcollege.ca/tourism. It's not too late to apply for the 2016 fall intake.
To contact Terri Parry at Marriott TownePlace Suites Thunder Bay, call (807) 346-9000, or e-mail tparry@towneplacesuitesthunderbay.com