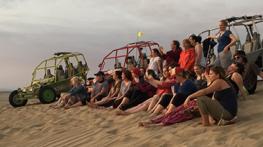 Want to find something exciting to do this summer?  Do you want to learn about the wonderful tourism the region has to offer? 
Come join us on April 3, 2019.  Please spread the word
It is with great excitement the Tourism, Travel and Eco-Adventure students from Confederation College welcome you to participate in our Tourism Fair/Amazing Race Day at Confederation College.  We are planning this event as part of our course requirements for our Tourism Essential class offered this semester. 
We are going to welcome over 20 vendors that are going to display and provide information for students, staff and public about the wonderful tourism and services our region has to offer.  Vendors included Westjet, Wasaya, Seek Adventure Tours, Destination Thunder Bay, Marriott, Ontario Parks, Apple Chipotles, Northwest Helicopters, City of Thunder Bay and many more.  We hope you are able to join us on April 3rd from 10 to 2 pm.   
Date:  April 3, 2019
Time 10- 2 pm
Location: Confederation College Shuniah Building, Succi Lounge. 
Author