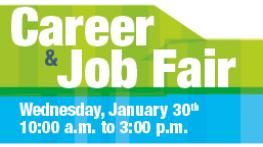 Are you looking for employment? Graduating in 2019?
Join us at our Career & Job Fair taking place on Wednesday, January 30th from 10 a.m. to 3 p.m.! All students who are looking for employment are welcome to attend. 
Over 60 employers will be on campus who are ready to hire people like you!
Prizes, Prizes Prizes
All attendees with receive a special Career & Job Fair Passport. Follow the instructions and once complete, enter into our draw for a chance to WIN some great prizes.
Need help to prepare for the Career & Job Fair?
Northwest Employment Works is available to review your resume and offer assistance. Call, click or visit them! 
CALL: (807) 473-3829 CLICK: www.northwestworks.ca VISIT: Northwest Employment Works Resource Centre at Confederation College, Shuniah Building Room C107 or 34 North Cumberland Street (Whalen Building)
SUCCI will also be hosting a Career Fair Prep Lunch and Learn session on January 23rd from 12:30-1:30pm. Stop by the SUCCI Office for more information.