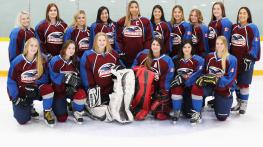 THUNDER BAY, ON, November 1, 2018 – Confederation College's Thunderhawks Women's Hockey team will host seven teams at an invitational tournament on November 2 – 4 at the Fort William First Nation Arena.
The Thunderhawks Invitational Women's Hockey Tournament will include the Gray Owls and the Prairie Blaze from Manitoba, and the St. Thomas Aquinas Saints from Kenora. The four local teams are the Lakehead University Thunderwolves, Midget AA Queens, Midget A Queens, Midget Fury and the Confederation College Thunderhawks.
Action begins on Friday, November 2 at 10:30 am with the Midget AA Queens taking on the LU Thunderwolves. Playoffs begin on Sunday, November 4 at 9:00 am with the championship game scheduled for 12:00 pm.
Weekend passes are $10 and are available at the door or at the Student Union Office at Confederation College.
Thunderhawks Head Coach Peter Plummer, along with all the coaching staff (Carter Ball, Jordan Bouley, Danielle Pelletier, Jelayna Heroux, Cody Bouley and Heather Bouley) are excited to host this tournament and would like to invite fans out to cheer on their favourite team to victory.
Visit www.thunderhawksathletics.com for a complete schedule of the Thunderhawks Invitational Women's Hockey Tournament.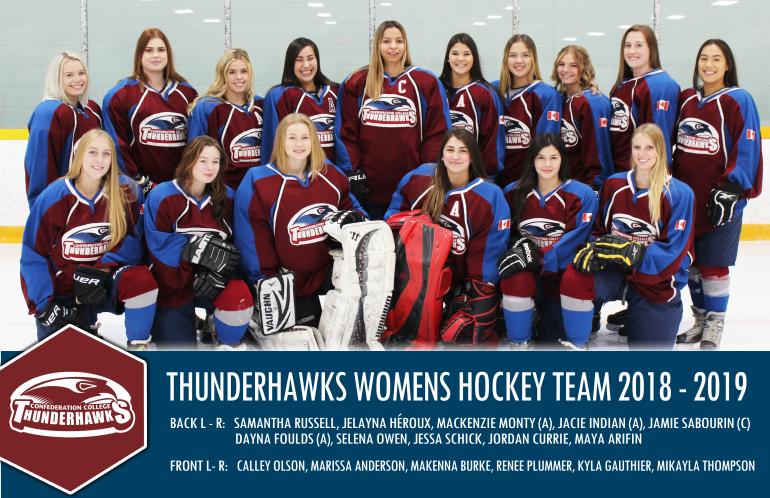 -30-
Confederation College has been serving the citizens of northwestern Ontario since 1967 meeting the educational needs of students in a catchment area of some 550,000 square kilometres. Along with its main campus in Thunder Bay, Confederation College has eight regional sites located in Dryden, Fort Frances, Geraldton, Kenora, Marathon, Sioux Lookout, Red Lake and Wawa. 
Confederation College delivers exceptional education and training to an average of 6,500 combined full and part-time students per year and currently has a total of 850 full and part-time employees. Confederation's regional economic impact and contribution is valued at $643.4 million annually.
For more information, please contact:
Susan Tucker, Administrator, Campus Recreation & Athletics, SUCCI – Student Union of Confederation College
Ph: (807) 475-6481, Cell: (807) 624-7498, E-mail: susan.tucker@confederationcollege.ca  
Vince Ponka, Media & Communications Officer
Ph: (807) 475-6137, Cell: (807) 620-0043, E-mail: vponka@confederationcollege.ca