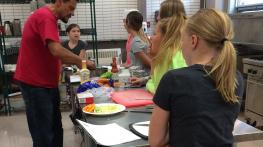 FORT FRANCES, ON, July 3, 2018 - In 2008, Confederation College's Rainy River District Campus first introduced its Summer Youth Camps. For the past decade, these camps have given approximately 450 youth aged 11 to 14 a chance to learn a variety of skills ranging from baking, cooking, art and music to carpentry, trades and fitness. The Summer Camps enable youth to experience learning in a college environment and introduces them to programming options at Confederation College.
"These camps give students the opportunity to have fun and embrace their creativity while they explore different career options and gain new skills," said Sandra Turner, Manager, Rainy River Campus. "Most of our camps are geared towards courses offered by Confederation College, so they get a taste of what College life can offer them."
The camps operate in partnership with the Moffat Fund, which helps keep fees affordable for families. Each year approximately 40 to 50 students participate. 
Laura Cochrane enjoyed the Carpentry and Make N Bake camps.  "The camps were a really good experience and the instructors were helpful and friendly," she said. "The best part was that we got to design our own final projects. In Carpentry, we learned how to use different woods to make our own design and in Make and Bake, we created our own fondant cake. It was so much fun!"
In 2015, the summer youth camp students in the Art Camp created an art installation titled "Dream Awake," which remains on display at the campus. It is a reminder to all who walk through the doors of Confederation College that they should believe in themselves and pursue their dreams.
There is still some space available for the Summer 2018 Programs.
For more information and to register, call (807) 274-5395 or visit:
www.confederationcollege.ca/FFYouthCamps
-30-
Confederation College has been serving the citizens of northwestern Ontario since 1967 meeting the educational needs of students in a catchment area of some 550,000 square kilometres. Along with its main campus in Thunder Bay, Confederation College has eight regional sites located in Dryden, Fort Frances, Geraldton, Kenora, Marathon, Sioux Lookout, Red Lake and Wawa. 
Confederation College delivers exceptional education and training to an average of 6,500 combined full and part-time students per year and currently has a total of 850 full and part-time employees. Confederation's regional economic impact and contribution is valued at $643.4 million annually.
For more information, please contact:
Vince Ponka, Media & Communications Officer
Ph: (807) 475-6137, Cell: (807) 620-0043, E-mail: vponka@confederationcollege.ca