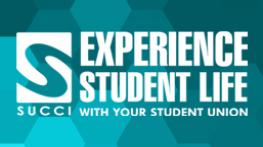 Yesterday as part of our role as an advocate for students, SUCCI President Vignesh Viswanathan sent the following letter to Minister of Training, Colleges and Universities, Merrilee Fullerton.  Similiar letters advocating for students have been sent by Student Associations across the province.  We await a response, and when we receive one we will share it with you.
Dear Minister Fullerton,
Today I write to you as an elected student leader who represents over 3600 students at Confederation College.  SUCCI, The Student Union of Confederation College Inc., and our student body are very concerned with the announcements made on January 17th, regarding the ten percent tuition reduction, changes to OSAP and more specifically, the "Student Choice Initiative".
The "Student Choice Initiative" jeopardizes student governments by making student fees optional. SUCCI, like all Student Associations, advocates for the best interest of our student body and provides a number of necessary services which support students while they attend college to enhance their overall college experience and help them to be successful. The logistics regarding what the Government has proposed are challenging, and the lack of engagement with students and student organizations indicates that the Government may not have a full understanding of the impacts of this directive. Since 2002, the "right to exist" of student organizations and our innate importance to our institutions was recognized, when the Ontario Colleges of Applied Arts and Technology Act was amended to include:  Section 7. Nothing in this Act restricts a student governing body of a college elected by the students of the college from carrying on its normal activities and no college shall prevent the student governing body from doing so.  This Initiaitive will hinder our ability to "carry on our normal activities" of providing valued services, opportunities, activities and resources to students who attend Confederation College both in Thunder Bay and our eight regional campuses across the northwestern Ontario region.
The scope of our role on our campuses includes, but is not limited to:
• providing representation of the student body at all college decision making tables;
• liaise with the college's administration on all policy-and-procedure issues affecting students, including fee negotiations;
• advocating with the college, community and province for the best interest of students;
• the administration of a student health plan, providing prescription-drug, vision-care and dental-care coverage to students;
• participate in third party agreements including the Universal Bus Pass for students with the City of Thunder Bay Transit;
• the employment of several hundred students annually in part-time, on-campus jobs;
• an Emergency Student Fund which provides a campus Food Bank and Emergency Grant Program assisting hundreds of students in times of need;
• operating a Healthy Nutrition Program offering free and low cost healthy food options;
• staging awareness activities on a wide variety of health, wellness and diversity topics;
• working with the college on issues like campus safety and sexual assault and sexual violence;
• providing student publications and social media communications;
• funding hundreds of scholarships and bursaries;
• provide funding in partnership with Confederation College for an Ombudsperson for students;
• leading Orientation activities for new students;
• responsible to run and administrate Varsity athletics and campus recreation at Confederation College;
• social events and recreation programming in multiple academic buildings;
• funder of college capital improvements including most recently building a new student Wellness Centre.
It is impossible for our Student Association to appropriately plan and implement our services without knowing what our operating budget will be.  We believe that students will not opt to pay the Student Association Fee as it will not be viewed as a necessity.  Students will likely not understand what these options will mean, nor when they may need these services.   
Many facilities, services and resources have been built and are available because of student associations.   The individual cost of services such as a universal bus pass, health plan and wellness activities will increase drastically if they have to be built on students electing these options.  The fees charged by Student Associations have been built on the premise of universal pricing which all students pay and become entitled to all the benefits associated with them.  This is a better value than building services with a cost recovery model driven by opting-in to individual services/programs like the Student Association Fee.  This creates affordability of access to many services rather than paying more for services individually. SUCCI services provided are in the best interest of the well being of students, and have been agreed to by students on behalf of those they represent; in fact, many have been as a result of a referendum and choice by the student body.
SUCCI's services and representation of students are welcomed and supported by Confederation College and form the cornerstone of a robust relationship, that has seen us grow to not only be respected pioneers and leaders in our college community but also major donors to college initiatives for over 20 years.  Being a small northern college, our students look to us to be a home away from home, and to provide spaces, services and opportunities to engage them at their institution.
The Student Union of Confederation College is an elected body voted to represent students by students.  Those students are our number one stakeholders and their voice and views matter.  We represent their interests and advocate on their behalf, just as we are doing now.   We implore you to reconsider the "Student Choice Initiative" to allow student associations across Ontario to continue to provide their students with the support and services they need in order to be successful.
Sincerely,
Vignesh Viswanathan
President| SUCCI | Student Union of Confederation College Inc.