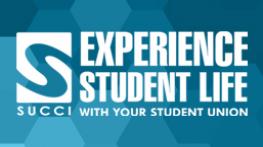 This past week SUCCI hosted the Spring College Student Alliance Conference here in Thunder Bay. 
At their closing Gala, SUCCI President Vignesh Viswanathan was the recipient of the CSA Engagement Award.  This prestigious Award proudly sponsored by Studio Nostalgia, is presented to an individual within CSA's membership who has demonstrated involvement and participation through CSA conferences, programs, working groups and more. This is excellent news and recognition for Vignesh; who works tirelessly in his role as a student leader and advocate for students.
To further this work Vignesh also allowed his name to stand, with the support of SUCCI; in the CSA Board of Directors Elections for 2019 - 2020 which took place at the conference.  He was successful in his bid, and was elected to the position of Director and will begin his term in the next academic year.  
Congratulations Vignesh!