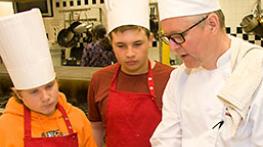 On the 9th, 10th and 16th of May, the students and faculty of the grade 7 and 8 classes of Kingsway school came to Confederation College to experience, hands-on, what it is like to work in a commercial kitchen.
Under the guidance of Culinary staff Shane Warwick and Janice Chase, the students created a beautiful lunch that included chicken sate, pork won tons, noodle salad, fresh pineapple smoothies and brownies and ice cream!
The students were engaged not only in cooking, but using their math skills to calculate recipe amounts and conversions, kitchen safety and knife handling skills.
The faculty of Culinary Management look forward to other opportunities to inspire Thunder Bay's culinarians of the future!