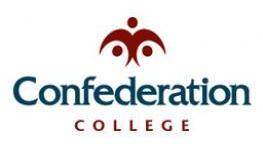 THUNDER BAY, ON, September 1, 2017 – Confederation College is excited to be welcoming new and returning students from Thunder Bay and region, Ontario, Canada and several international countries.
Program orientation is taking place for first-year students on September 5th to celebrate and enhance the students' first days of college and prepare them for a successful learning experience. They'll meet their program coordinator, faculty and classmates, learn about what they need to succeed in their program, and be introduced to college support services and opportunities at their respective campuses.
"Orientation provides opportunities for students to learn more about their college and program, student services and student life," said Jodi Afonso, President of the Student Union (SUCCI). "Of course it's also a great way for students to connect with their peers and enjoy some fun before hitting the books. By offering our guidance and support, we hope our students will feel more confident and prepared for the year ahead, so they can be successful in achieving their educational goals."
SUCCI will be hosting orientation events throughout the month of September for all students including their Welcome BBQ, also happening on September 6. The event will feature free food, entertainment, games, prizes and more.
Also taking place this month is a Campus and Community Connections Fair to facilitate students becoming familiar with college services and community organizations that are available to help them throughout their studies. Other orientation highlights throughout September include a Sleeping Giant hike and A Northern Welcome: Celebration and Feast featuring Indigenous drum and dance, plus traditional foods. Visit www.succi.com for a full schedule of SUCCI events.
In addition, students can look forward to the 4th Annual Maadaadizi Orientation event, co-hosted by Confederation College and other educational partners, specifically designed for Indigenous learners in our community. This year's celebration will take place at Prince Arthur's Landing on September 9.
"Orientation Day is an exciting day for us," said Jim Madder, President of Confederation College. "It's an important way for us to celebrate our incoming and returning students, and offers an opportunity for those students to learn more about the supports and services available to them throughout their studies. Our goal is to help prepare them for a memorable and successful year and ultimately, to create a positive and meaningful college experience."
Celebrations will continue for students, employees, alumni and community during Confederation College's 50th Anniversary Homecoming Weekend presented by Tbaytel taking place September 21-24. For more information visit www.confederation50.com.
-30-
Confederation College has been serving the citizens of northwestern Ontario since 1967 meeting the educational needs of students in a catchment area of some 550,000 square kilometres. Along with its main campus in Thunder Bay, Confederation College has eight regional sites located in Dryden, Fort Frances, Geraldton, Kenora, Marathon, Sioux Lookout, Red Lake and Wawa. 
Confederation College delivers exceptional education and training to an average of 7,800 combined full and part-time students per year and currently has a total of 805 full and part-time employees. Confederation's regional economic impact and contribution is valued at $411.2 million annually.
Confederation College is proudly celebrating its 50th Anniversary in 2017. For more information, visit www.confederationcollege.ca.
For more information, please contact:
Ashleigh Quarrell, Communications Consultant
Ph: (807) 475-6565, Cell: (807) 632-5296, E-mail: aquarrel@confederationcollege.ca