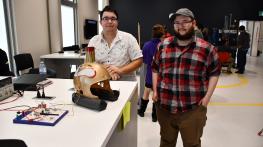 Today in the TEC Hub, graduating students in the Electrical Engineering Technology program at Confederation College demonstrated how their culminating projects can help to solve some technical challenges faced by society. 
The projects, designed and constructed by students, were created through the application of the engineering principles they have learned during their three years in the program, including how electrical and computer systems can be designed and used to automate and control the world around us.
Congratulations to all of the students for their innovative projects.