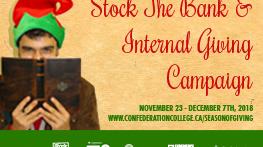 Day 9 of Stock The Bank began with the final Pancake Breakfast by Donation spreading holiday cheer in the  ACE Building… The 13th Annual STOCK THE BANK Competition is almost over…  Thank you to everyone who generously donated so far… Tomorrow is the final day, and giving from our Official Needs List, makes each donated item worth 5 points… we are also adding SOUP & CANNED FRUIT to the OFFICIAL NEEDS LIST and giving through payroll donation and designating a portion to the Student Emergency Fund is worth 50 points per donation!
Day Nine has changed the Leader Board in the Large Teams Division!
Large Teams -  Registration, Admissions, Financial Aid, The Hub & Communications  * NEW LEADER
Small Teams - TLC, CICE & Sodexo Food Services 
Academic Teams - School of Business, Hospitality and Media Arts (Faculty Included) 
TODAY IS THE FINAL POSTED LEADER BOARD…Teams can hear their own totals tomorrow but not anyone elses!
For more information on this years campaign, please go to http://www.confederationcollege.ca/advancement/employeegiving 
Thank you all for your generous giving!  Remember everything winds up Friday, and we have our Holiday Open House and Announcement of Winners on Monday!
File Attachments