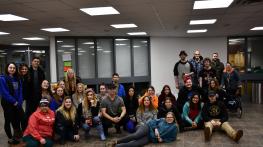 As part of their Community Development course, first-year Social Service Worker students have been working to gather food items and cash donations in support of the Regional Food Distribution Association (RFDA). The RFDA will distribute the items to food banks in Thunder Bay and the region. The RFDA also supports other initiatives including Shelter House's SOS program and public school breakfast programs, so these food donations will support a wide number of people who need it most.
The total amount raised was $3,059.
This included:
- $195 in gift cards from local super markets
- $720 in cash donations
 - 700 kilograms of food worth $2,144 including:
129 boxes of cereal
324 cans of veggies and canned fruit 
108 jars/cans of pasta sauce
132 packages of noodles
155 sandwich items (bread, peanut butter & jam, mayo, sandwich spreads, etc.)
Today, the class presented the RFDA with the goods they have collected during the term. Congratulations to the class for all of their hard work!