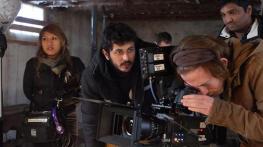 Confederation College Gives Locals an Opportunity to Share Their Talent
THUNDER BAY, ON, September 11, 2018 – Confederation College's Film Production program is seeking actors and extras for the many short films produced each year. An open casting call is taking place on Saturday, September 15 and Sunday, September 16 from noon to 3 p.m. in the Shuniah Building lobby area at Confederation College.
"The Film Production program creates over 200 short films a year and there is nothing more exciting than to see the results on the big screen and on TV," said Lee Chambers, Instructor, Film Production program. "You could be a lead actor or an extra in a film made with top quality Hollywood equipment."
Getting added to the casting books is simple. Members of the community can attend the casting event, fill out a simple contact form and have their photo taken. The casting books will be provided to Film Production students who will then contact actors when it's time for production.
Brittany Moratz took part last year, receiving a call to perform in a student production. "I had an amazing time and met incredible people with inspiring visions," said Moratz. "I can't wait to do it again!"
Coming to the casting call may also lead to opportunities outside of the College. Casting books are shared as an open resource to other community filmmakers and external producers needing talent.
All are welcome to attend the casting; no experience is required. Those unable to attend the casting call can visit www.conflix.com to submit their details.
A reminder that during bridge construction, the Shuniah Building must be accessed from the Balmoral St. entrance.
-30-
Confederation College has been serving the citizens of northwestern Ontario since 1967 meeting the educational needs of students in a catchment area of some 550,000 square kilometres. Along with its main campus in Thunder Bay, Confederation College has eight regional sites located in Dryden, Fort Frances, Geraldton, Kenora, Marathon, Sioux Lookout, Red Lake and Wawa. 
Confederation College delivers exceptional education and training to an average of 6,500 combined full and part-time students per year and currently has a total of 850 full and part-time employees. Confederation's regional economic impact and contribution is valued at $643.4 million annually.
For more information, please contact:
Vince Ponka, Media & Communications Officer
Ph: (807) 475-6137, Cell: (807) 620-0043, E-mail: vponka@confederationcollege.ca