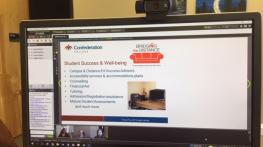 Regional staff and faculty presented at the recent CICan Forum for Colleges and Institutes Serving Rural, Remote, and Northern Communities - Sustainability of Campuses in Small Communities. 
Laura Christie, Director of the Lake of the Woods and Red Lake Campuses, was present at the conference in Owen Sound, Anne Renaud, Dean of the School of Access and Success, Sandra Turner, Director of the Rainy River and Eastern Campuses, and Bobbi Turpin, part-time faculty member, joined via technology using our Saba web-conferencing platform.
Our presentation was entitled Access & Success at Rural & Remote Locations through Technology Enabled and Enhanced Learning. The presentation shared information about our regional campus and distance ed delivery of our Integrated Plan (post-secondary programs) as well as student supports via our web-conferencing platform. This gave participants an opportunity to see our delivery method in action. It was well received and several questions diving deeper into the details behind how we make this happen followed.