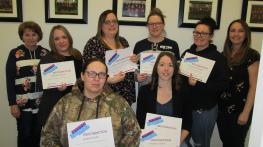 The Marathon Northshore Campus held a ceremony recognizing the In Program Awards of 6 very deserving students. The following students were recognized for their hard work and commitment in their program.
Back Row:
Doreen Doucette - Classroom Assistant.
Brandy Schwantz - SSW Year 1
Ashley Roy - PSW Year 1
Tiffaney Godin - ECE Year 2
Sammi-Jo Gosleigh - PSW Year 1
Julie Chevrier Academic Services Assistant. 
Front Row: 
Joanne Austin - PSW Year 1
Meaghan Laidler - BA Year 2