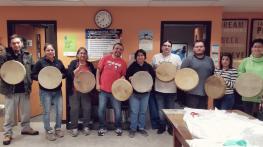 The heartbeat of the drum is the heartbeat of our Mother Earth. When we drum, we reconnect to that sacred space, offer mediation and prayers for healing. We honour our ancestors, the land, air, water, and all living things.
The Oshki Anishnawbeg Student Association held a Hand Drum Workshop on March 27 in our Apiwin Student Lounge. The workshop was facilitated by Doug Turner who is a Youth Outreach Worker. Doug shared his stories and teachings while guiding students through the process of drum making. It was a great night and an even better turn out.
Meegwetch to Doug Turner, we look forward to having him come into Apiwin to share more of his stories and songs.