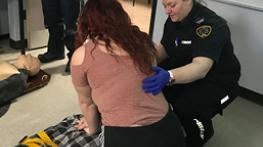 On Monday March 11, 2019, as part of their Mental Health and Addictions class, the second year Native Child and Family Services (NCFS) students collaborated with Tanis Miller and two of her paramedic students to learn about the science of substances and overdose treatment techniques to act quickly to save lives, and make the paramedics job a little easier upon entering the scene of an overdose.
The students were taught hands-on CPR, how to move someone into the recovery position and how to administer Narcan (also known as naloxene).
This was a wonderful class, and a great collaboration for both disciplines.