Community News
Media
Operational News
Confederation College Advises Visitors to Be Prepared
THUNDER BAY, ON, August 14, 2018 – Starting Monday, August 20, the Nakina/Atikokan Drive Bridge on Confederation College's Thunder Bay campus will be closed for construction. The bridge is being updated after more than 50 years, with the project being awarded to LH North. Completion of phase one is anticipated by December 15, 2018, with phase two taking place in the summer of 2019.
There will be no thru traffic for the duration of construction with access to various buildings being limited to the Balmoral Street and William Street entrances. Golf Links Road access will be limited to contractors. See the attached map for detailed information.
Access to Confederation College:
Balmoral Street (Barton Drive/Sibley Drive). Use this entrance to access the Shuniah and Dorion Buildings, the SUCCI Wellness Centre, Minowaadiziiwin, Spruce and Cedar House Residences, Northwest Employment Works and the Thunder Bay Art Gallery.
William Street. Use these entrances to access the McIntyre Building, Sibley Hall Residence, Children and Family Centre and Northwestern Ontario Innovation Centre.
Individuals visiting Confederation College should be prepared for delays and are encouraged to give themselves extra travel time and proceed with caution. This will be especially important on Orientation Day, Tuesday, September 4 with students returning to campus.
Individuals should also be prepared for the following changes:
Parking and Drop-Off Area/Pick-Up Area:
Parking permits for day passes will available at kiosks located in Parking Lot F (for buildings accessed by Balmoral St) and near the hut off of Schreiber Rd (for buildings accessed by William St).
For those accessing the Shuniah Building, all drop-offs and pick-ups must take place on the west side of the building (see V2 on the attached site map). Metered parking spots in that area will not be available during construction. The east entrance of the Shuniah building will be limited to City shuttle buses only.
Clients of Northwest Employment Works (NEW) will need to park in Lots E and F with parking permits visible (purchase from the kiosk in Lot F). NEW will remain open for the duration of construction and clients are also reminded of their additional location: Whalen Building, 1st Floor, 34 N. Cumberland St.
Confederation College will not issue parking tickets on its main campus until September 17 to support the transition during the beginning of this construction project.
Thunder Bay Transit:
All City bus stops will be relocated to the west side of the Sibley Hall Residence. Confederation College will support shuttle bus service between the McIntyre and Shuniah buildings. Service will be available from 7:30 am to 5:30 pm, with shuttles running regularly (approximately every 20 minutes).  
Pedestrians:
The pedestrian bridge north of the Sibley Hall Residence will enable pedestrian access between the two sides of campus.
Multi-use trail access will also change during construction, with the detours marked.
Confederation College apologizes for any inconvenience and appreciates the public's support and understanding.
For more information and regular updates, visit: www.confederationcollege.ca/constructiononcampus.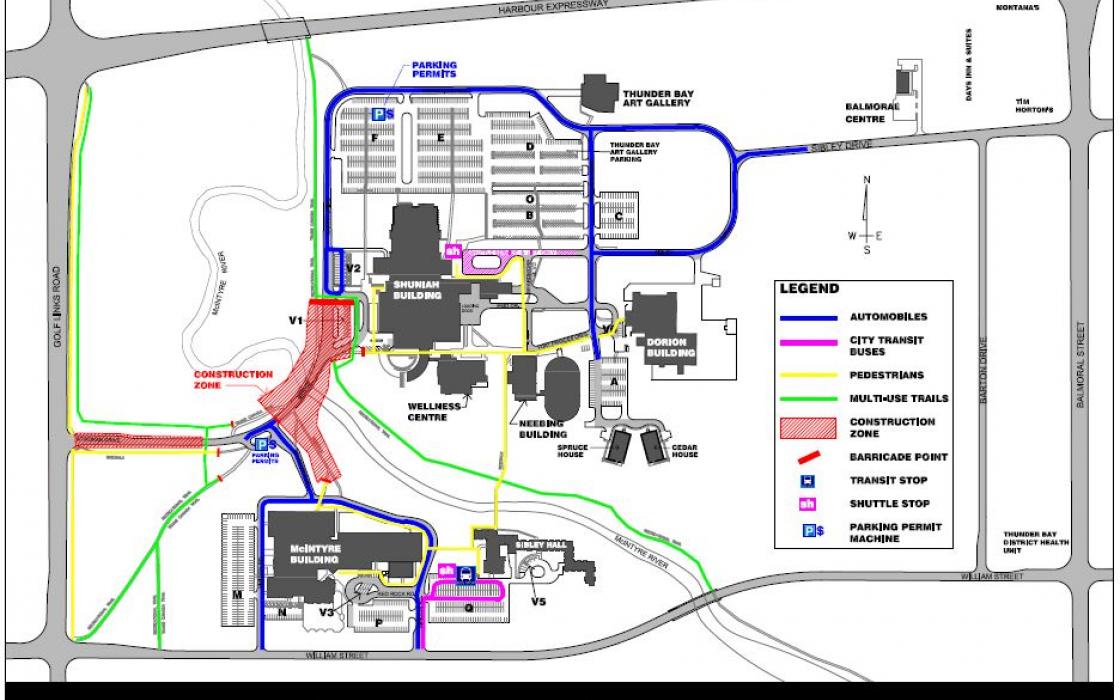 -30-
Confederation College has been serving the citizens of northwestern Ontario since 1967 meeting the educational needs of students in a catchment area of some 550,000 square kilometres. Along with its main campus in Thunder Bay, Confederation College has eight regional sites located in Dryden, Fort Frances, Geraldton, Kenora, Marathon, Sioux Lookout, Red Lake and Wawa. 
Confederation College delivers exceptional education and training to an average of 6,500 combined full and part-time students per year and currently has a total of 850 full and part-time employees. Confederation's regional economic impact and contribution is valued at $643.4 million annually.
For more information, please contact:
Vince Ponka, Media & Communications Officer
Ph: (807) 475-6137, Cell: (807) 620-0043, E-mail: vponka@confederationcollege.ca
File Attachments