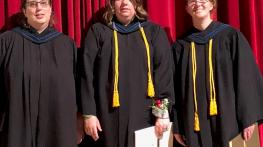 DRYDEN, ON, July 3, 2018 – Thirty students graduated from Confederation College's Dryden campus on June 19, but three people in particular overcame great obstacles to cross the stage. In the process, they became role models to their fellow students, staff, faculty and community.
Brandy Croom, Priscilla Remillard and Rebecca Wurch are the first graduates of the regional delivery of the Community Integration through Cooperative Education (CICE) program at Confederation College. CICE is designed to help anyone with learning, social or intellectual challenges find ways to overcome them. The Thunder Bay campus first offered the CICE program in 2012.
Graduating was a proud moment for the three ladies and their families. "Graduating feels really good," said Brandy Croom. "It was a lot of work, but having someone in class who's there to help you made things a lot easier."
What makes CICE special is not just what it teaches, but how it encourages students to enjoy learning. Students who previously didn't feel comfortable or confident in an academic environment quickly take to this program, thanks to the support and one-on-one attention they receive. In the two years of this program, most students not only find success academically, but they learn how to overcome their specific challenges so that they can succeed after college as well.
"All three of them are extremely dedicated and work very hard," said Angelina Anderson, Director, Dryden and Sioux Lookout Campuses. "It hasn't always been easy, but they've persevered. We've seen a lot of growth in them and we are very proud of their accomplishments."
Placement in the community is a major part of the CICE program as it provides an important opportunity for experiential learning. Croom's placement was especially meaningful as the company ultimately hired her. "It's fun and challenging and I always try to do my best," said Croom. 
Gaining confidence is another benefit of the program. Rebecca Wurch demonstrated her newfound confidence when speaking at the Annual General Meeting for Community Living, where she discussed her experience with the CICE program and how it was beneficial for her.
Priscilla Remillard agrees that the CICE program was very beneficial. "It's changed me," she said. "I never thought I'd be able to go to college. I loved my teachers; they taught me a lot and helped me get where I am now."
Dryden will offer the program again this fall. The Rainy River District Campus in Fort Frances introduced delivery of the program in 2017 and the Lake of the Woods Campus in Kenora will introduce this program beginning September 2019.
For more information and to apply, visit: www.confederationcollege.ca/cice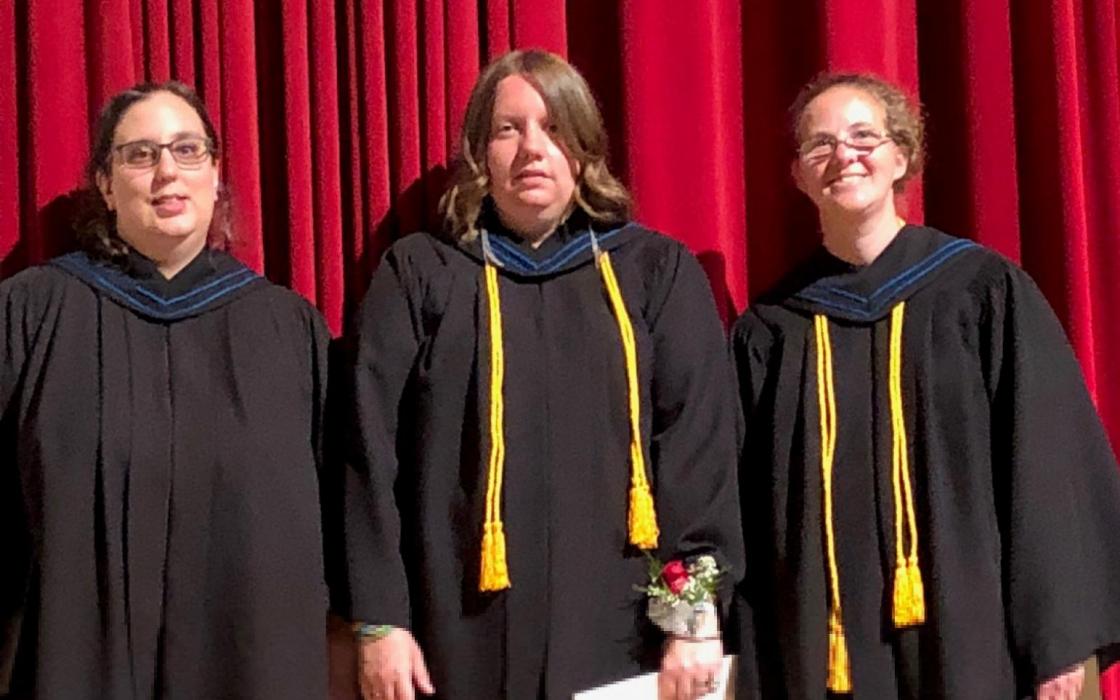 LINK TO THE STORY ONLINE: www.confederationcollege.ca/node/22628
PHOTO CAPTION: CICE graduates (l-r) Pricilla Remillard, Brandy-Lynn Croom and Rebecca Wurch
-30-
Confederation College has been serving the citizens of northwestern Ontario since 1967 meeting the educational needs of students in a catchment area of some 550,000 square kilometres. Along with its main campus in Thunder Bay, Confederation College has eight regional sites located in Dryden, Fort Frances, Geraldton, Kenora, Marathon, Sioux Lookout, Red Lake and Wawa. 
Confederation College delivers exceptional education and training to an average of 6,500 combined full and part-time students per year and currently has a total of 850 full and part-time employees. Confederation's regional economic impact and contribution is valued at $643.4 million annually.
For more information, please contact:
Vince Ponka, Media and Communications Officer
Ph: (807) 475-6137, Cell: (807) 620-0043, Email: vponka@confederationcollege.ca