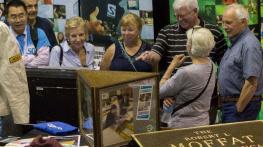 Over 2,000 people celebrated with us during the 50th Anniversary Homecoming Weekend presented by Tbaytel this past weekend and we couldn't have had more fun!
The weekend kicked off on Thursday, September  21st, with the 22nd Community Partners' Evening, raising $30,000 for student entrance awards. On Friday, we welcomed 3 successful Alumni back to campus to share their experiences and successes during our Alumni Speaker Series. To see the presentations, check out the video recordings… 
Next was our Community Festival on Saturday, which brought excitement and energy to campus! Participants enjoyed live music, children's activities, a musical performance of our history, campus tours, a walk through memory lane at our pop-up Confed museum, and much, much more!  The evening concluded with a well-attended drive-in movie and amazing fireworks show.  Last, but certainly not least, we wrapped up on Sunday with a Homecoming Brunch hosted by President Jim Madder. Guests enjoyed a delightful meal while personally expressing their ideas and wishes for our next 50 years.
We'd like to thank everyone who made this Homecoming Weekend possible, with special thanks going to our sponsors, volunteers and participants!!
Check out photos from the weekend on our Confederation College Facebook page…
But, the celebrations are not over yet!  Each regional campus will be hosting a 50th Anniversary Homecoming Reception this fall, and Confederation College will be hosting the Thunder Bay Chamber of Commerce After Business event on November 15, 2017.  We'll be wrapping up to say thank you to our volunteers and supporters at a closing event in December, when a time capsule will be presented for placement in the new SUCCI Wellness Centre, Minowaadiziiwin.