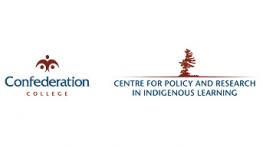 Our Research Projects
In the five years that the Centre for Policy and Research in Indigenous Learning (CPRIL) has been in operation our achievements to date are widespread and diverse. All of our projects are collaborative, where 77% of our partnerships are with Indigenous Educators.
Location: CPRIL is located in Room 235, Shuniah Building
Ontario Council on Articulation and Transfer (ONCAT)
Firstly, we have engaged several colleges and universities and an Indigenous Institute through funding from ONCAT by focusing on Indigenous learner pathways, to increase mobility and academic success for these learners. Learners acquire their college and university credentials within a four year period in what are called "two plus two" agreements, opening doors where few existed before.
Higher Education Quality Council on Ontario (HEQCO)
HEQCO is funding research to determine the ways that Indigenous Learning Outcomes (ILO) contribute to critical thinking skills and provide learners with Indigenous centred knowledges that inform global citizenship. This internal research involving faculty who are working with the ILO content will measure if these goals are achieved through learner assessment. 
Education Policy Research Institute (EPRI), University of Ottawa
Together with EPRI, we have examined persistence and success among Indigenous learners. While retention measures those entering and leaving college our model focuses on persistence. This measures graduation for learners completing their studies over a period of time beyond the conventional two-three years. The persistence highlights the resilience of learners as they navigate life towards their own achievement of graduation. Through this project we are partnering with First Nation education authorities who have helped create the research model in this highly collaborative project.  
National and international collaborations
The Centre has also pursued and developed research projects in the field of Indigenous education not only here but throughout Canada and Australia. We began working with Saskatchewan Polytechnic Institute and are engaging with Yukon College.  In Ontario we have active partnerships with George Brown College and Sault College.  Further, we have a collaboration with Thomas Cook University in Townsville, Australia, which is focused on Indigenous Studies with a first step on international student exchange in March 2019.
From the beginning of CPRIL, a strong collaboration between our College, the Indigenous led First Nations Technical Institute (FNTI) in Tyendinaga Mohawk Territory, and Trent University enhances how each partnering institute continues to support innovation in the field of Indigenous Studies. A successful pathway from the College's Aboriginal Community Advocacy Program towards a Bachelor of Arts Degree in Indigenous Studies at Trent University provides a direct link from diploma to degree.
Evaluation projects
More recently, we are undertaking projects that involve evaluation.  We are leading evaluation work with the Ontario College of Art and Design University (OCAD U) in Toronto, to assess their two year ONCAT funded project focused on developing Indigenous related pathways. We are also providing an evaluation on Confederation College's Learning Resources Division regarding their Ontario Postsecondary Access and Inclusion Program. Lastly, we are providing an evaluation for the WATEP project (Water Authority Training and Education Program), based out of Mishkeegogamang. 
S. Brenda Small, Vice President, CPRIL
CPRIL staff are:
Jennifer Oja, Administrative Assistant
Dr. Lisa Schmidt, Program Manager
Emily Willson, Project Manager-Research
Lillian Comeau- Proactive Adviser
Dr. Joyce Helmer, Research Associate
Dr. Don McCaskill (Trent University), Research Associate
Our partners are:
| | |
| --- | --- |
| Institution | Partners |
| First Nations Technical Institute | Adam Hopkins |
| Trent University | Don McCaskill, Dan Longboat, Dawn Lavell-Harvard |
| Algoma University | Dave Marasco, Dawn Elmore |
| Algonquin College | Sherryl Fraser, Andre O'Bonsawin |
| Canadore College | Jeannette Miron, Micheline Demers |
| George Brown College | Lori Budge |
| Lakehead University | Nancy Lukai, Denise Baxter |
| Laurentian University | Shelly Moore-Frappier, Melissa Ouimette |
| Mohawk College | Amy Kelaidis, Leah Hogan |
| Queens University | Jan Hill |
| Sault College | Carolyn Hepburn |
| University of Sudbury | Sylvie Renault, Sarah Rice |
| Northern Ontario School of Medicine, Laurentian University | Lorilee McGregor |
| Education Policy Research Institute, University of Ottawa | Ross Finnie, Mike Dubois |
| Matawa First Nations Management | Georgette O'Nabigon |
| Northern Nishnawbe Education Council | Leona Scanlon |
| Seven Generations Education Institute | Howard Twance |
| Ontario Native Women's Association | Cora Lee McGuire, Tamara Bernard, Tammy Bobyk |
| Bora Laskin Faculty of Law, Lakehead University | Daniel Dylan |
| Saskatchewan Polytechnic | Jason Seright, Julian Tomlinson |
| Yukon College | Karen Barnes, Tosh Southwick |