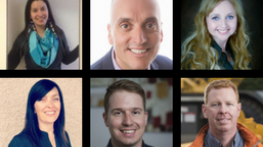 Good luck to our 2017 Premier's Awards nominees: Ashley Nurmela, Gary Mack, Sharla Brown, Silvana Edenburn, Thomas Plaskett and Tom McClement.
The Premier's Awards honour the important social and economic contribution that college graduates make to Ontario and throughout the world. 
The winners will be announced this evening (Nov. 27) at the 2017 Premier's Awards gala in Toronto.
Ashley Nurmela
Native Child & Family Services, 2016
Acting Aboriginal Liaison Strategy Coordinator, City of Thunder Bay
Ashley Nurmela, like many college graduates, planned to change the world once she got her diploma at Confederation College. The difference was, Ashley was already changing the world before she graduated. Ashley helped launch several student rallies on campus including the Stand Up! Campaign in response to racist comments on Facebook aimed at Indigenous Peoples living in and around Thunder Bay. Her activism has earned praise from Confederation College and inspired others. Today, Ashley is working at Thunder Bay City Hall to help ensure the city is implementing recommendations from inquests including the Truth and Reconciliation Commission's Call to Actions.
---
Gary Mack
Social Services Worker, 1993
Executive Director, Shelter House Thunder Bay
Gary Mack is the Executive Director of Shelter House Thunder Bay. Since joining the non-profit organization in 2016, Gary has turned it into one of the most progressive shelters in Canada. Programming goes beyond sheltering and feeding clients to helping them get more engaged with the community. For example, Gary created an Advisory Board to give residents input into day-to-day activities including staff hiring. He is known for his commitment to alleviating homelessness, his ability to network with regional leaders, his compassion, and his dedication. Gary fights every day to uphold everyone's right to respect and dignity.
---
Sharla Brown
International Business Management, 2000
International Business, 1995
Director, Keynote Events (Owner)
Sharla Brown has taken social enterprise to a new level, inspiring women locally and around the world. As owner of Keynote Events in Thunder Bay, Sharla's business activities always have a fundraising aspect. With a number of successful events including Dirty Girls Mud Run, Monster Slide Canada, and Savour Superior Food and Drink Festival, Sharla has raised over $1.2 million for charity. She has won numerous awards including an Iconic Women in Social Enterprise Award in 2016 for One Woman (OneWoman.ca), which she founded as a way to empower and support women entrepreneurs in developing countries around the world.
---
Silvana Edenburn
Dental Hygiene(Niagara), 1998
Dental Assisting, 1994
Office Administration, 1992
Clinical Dental Hygienist, Northwestern Health Unit
Silvana Edenburn is the driving force behind a unique program that brings dental services to over 1,000 clients – mostly children – across northwestern Ontario. Known informally as the "Smile Bus", the Mobile Dental Office (MDO) travels 20,000 kilometres each year to 10 towns and First Nations in the region. Silvana pulls double duty on the team as both a hygienist and the bus driver. Thanks to her efforts to coordinate visits with communities, bridge cultural barriers with First Nations, and administer the program under Healthy Smiles Ontario program, communities are now receiving dental care services that would otherwise be unavailable.
---
Thomas Plaskett
Multimedia Production, 2013
Broadcasting-TV Production, 2009
VFX Supervisor, Rocket Science VFX
Thomas (Tom) Plaskett was able to take full advantage of the state-of-the-art learning environment at Confederation College to essentially design his own program. Taking elements from both Broadcasting and Multimedia, he oversaw large school projects while learning fundamental production management skills along the way. Today, Tom is quickly climbing the ranks as a VFX (Visual Effects) Supervisor at Rocket Science VFX, the company behind the stunning visual effects in such TV shows as Into the Badlands and Hannibal. In 2016, Tom was part of the team nominated for an Emmy Award for "Outstanding Special Visual Effects in a Supporting Role".
---
Tom McClement
Civil Engineering Technology, 1996
President, LH North General Contractors
Tom McClement "flipped over the map" to choose Confederation College in Thunder Bay for his diploma in Civil Engineering Technology – and it's lucky for northwestern Ontario that he did. After working on several projects in the area including the longest semi-integral abutment bridge in North America, he and a partner launched LH North General Contractors Ltd. Within 10 years, the company grew to over 70 employees and is the go-to bridge contractor in the region, especially in emergency situations. LH North is expanding once again and recently purchased a 350-ton crane, one of the largest cranes operating in the region.
---