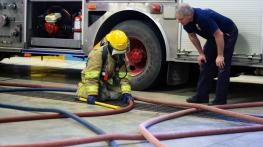 January 19, 2018, THUNDER BAY, ON – For many people, the thought of navigating through a collapsed and burning building is the stuff of nightmares. But for the students in Confederation College's Pre-Service Firefighter program doing firefighter survival training, it's just another Friday afternoon.
Shane Ferguson, the program coordinator, calls the training "boot camp" – and it's exactly what you might imagine. Long days, hot (or cold) conditions, heavy equipment, and a real maze of obstacles challenge students literally to their limits. But then, when you're grooming heroes, the training likely isn't going to be a walk through the park.
This particular Friday's challenge focused on how to get themselves and their partners out of a dangerous location. It's the first of a three-day session that will allow them to hone their skills in the safety of the training facility at Oliver-Paipoonge Fire & Emergency Service's Kakabeka Station.
"This is for them – it's to train them how to get themselves out if they get caught in a situation," said Ferguson. "It's very important."
Ferguson is a retired firefighter from Winnipeg where he specialized in rescue. That makes today's training a little more personal for him, especially since he faced danger himself. "I was caught in situations. It's something that I really stress to the students: things can go south pretty fast. People are running out of the house, and you're going in."
Ferguson and the other instructors, which include both retired and active firefighters, teach the students various skills including how to navigate through wires with the heavy equipment and breathing apparatus, how to pull your partner up out of a hole, and how to follow a hose back out of the building. This last training exercise is done wearing a blacked-out mask simulating dark, smoky conditions.
Richard Vignuda, one of the students in the Confederation College program, said that it takes some getting used to the equipment – physically and mentally.
"The first time I put on the gear, it was a little awkward," he said. "You feel a little bit of panic because not everyone is used to breathing through a face piece. But then you get used to it."
Vignuda said that he always wanted to be a firefighter. Taking this 10-month course will help him get his certification, and another step to closer to his dream. "That would be the ultimate goal, working for Thunder Bay Fire," he said. "I'm going to apply for the test this year – I know they have hiring this upcoming spring."
For Abby Stezenko, the idea that she could even become a firefighter came later in life. Stezenko was inspired by Stephanie Drost and Ceilidh Boyd, Thunder Bay's first women firefighters. "Seeing the two girls on the department helped me realize that girls really can do it," Stezenko said.
She said she likes the hands-on aspect of the program – in fact, about 85 percent of the program is practical. Although it's physically demanding, Stezenko said it's not as bad she expected. Anyone who's willing to work hard can do well, she said.
"I just think that anyone who wants to be a firefighter should try. We all start at different levels, but we're all raised to the same level by the end of the year. Everyone grows as a team here."
For more information about the Pre-Service Firefighter program and to apply, visit www.confederationcollege.ca/preservice-firefighter.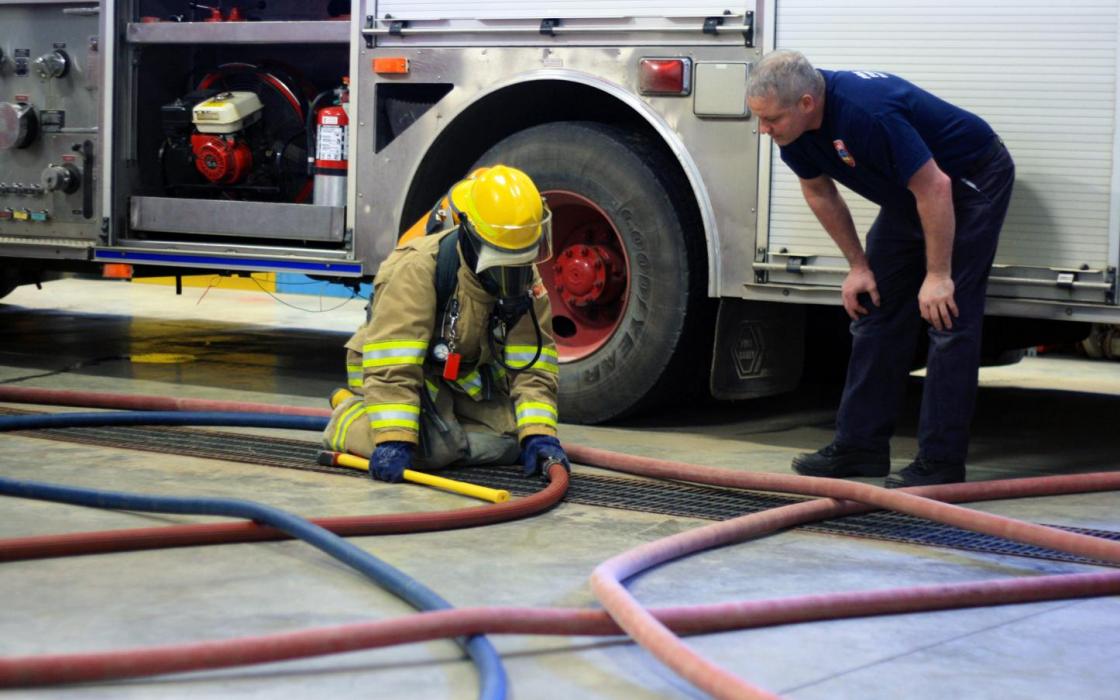 Abby Stezenko learns how to find her way out of a burning building by following the fire hose back. Students train while wearing a special blacked-out mask so they can only negotiate the course by feel.
-30-
Confederation College has been serving the citizens of northwestern Ontario since 1967 meeting the educational needs of students in a catchment area of some 550,000 square kilometres. Along with its main campus in Thunder Bay, Confederation College has eight regional sites located in Dryden, Fort Frances, Geraldton, Kenora, Marathon, Sioux Lookout, Red Lake and Wawa. 
Confederation College delivers exceptional education and training to an average of 7,800 combined full and part-time students per year and currently has a total of 805 full and part-time employees. Confederation's regional economic impact and contribution is valued at $411.2 million annually.
For more information, please contact:
Ashleigh Quarrell, Communications Consultant
Ph: (807) 475-6565, Cell: (807) 632-5296, Email: aquarrel@confederationcollege.ca