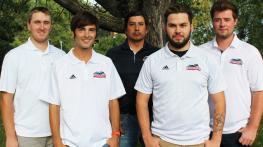 THUNDER BAY, ON, October 1, 2018 – The Confederation College Thunderhawks Golf team will be in London, Ontario from September 30 to October 5 to compete at the Fire Rock Golf Course for the Ontario Colleges Athletic Association (OCAA) Provincial Golf Championships hosted by Fanshawe College.
The College is fortunate to have three veterans and two rookies on the team representing Confederation at these Championships.
Coach David Reid is excited to introduce this year's experienced squad that consists of veterans Tyson Morrisseau, Cam Zappitelli and Little Eagle Copenace, and rookies Joshua Kitt and Michael Brown.
To learn more about athletics at Confederation College, visit: www.thunderhawksathletics.com.
-30-
Confederation College has been serving the citizens of northwestern Ontario since 1967 meeting the educational needs of students in a catchment area of some 550,000 square kilometres. Along with its main campus in Thunder Bay, Confederation College has eight regional sites located in Dryden, Fort Frances, Geraldton, Kenora, Marathon, Sioux Lookout, Red Lake and Wawa. 
Confederation College delivers exceptional education and training to an average of 6,500 combined full and part-time students per year and currently has a total of 850 full and part-time employees. Confederation's regional economic impact and contribution is valued at $643.4 million annually.
For more information, please contact:
Susan Tucker, Administrator, Campus Recreation & Athletics, SUCCI – Student Union of Confederation College Inc.
Ph: (807) 475-6481, Cell: (807) 624-7498, E-mail: susan.tucker@confederationcollege.ca   
Vince Ponka, Media & Communications Officer
Ph: (807) 475-6137, Cell: (807) 620-0043, E-mail: vponka@confederationcollege.ca