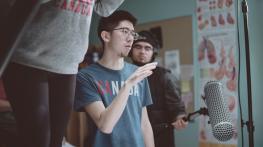 THUNDER BAY, ON, April 24, 2018 – This year's graduating class of the Film Production program at Confederation College will be rolling out the red carpet for the annual Film Night to showcase over 30 original short films. The films, produced entirely by the students, will debut in the College's Shuniah Building Lecture Theatre (Room 351) on Thursday, April 26, 2018 at 7:30 p.m. 
The general public is invited to join in for Film Night. Movie-goers can expect an eclectic anthology of film ranging from comedies to dramas and documentaries; there is truly something for everyone.
The program will include Gamer by Chen Zhang, which focuses on a Canadian snowstorm and boasts amazing art direction and cinematography.
"For me to study in Canada has been an awesome experience, as I had to learn how to survive a winter shoot," said Zhang, a student from China. "The Film program is unique and we have lots of opportunity to cooperate with each other. Our professors have so much passion for teaching."
Fellow student RJ Nadon added "You do everything in the Film program: writing, directing, shooting, lighting, editing, even a little acting if you're into that sort of thing. You make strong relationships, and in an industry that relies heavily on who you know that's definitely a plus. With Confed grads all over the country in major positions you have opportunity at every corner." Nadon directed the thriller Hand-in-Hand.
John Holmes, who crafted the comedy Signed, Sealed, Delivered also shared what keeps his creative juices flowing. "My main motivator is to make something that people want to watch. The thought of someone else enjoying my work is what keeps me going even through all the stress that happens during production."
Lee Chambers, Film Professor at Confederation College, shared how proud he is of his students.  "Film Night provides the unique opportunity for our students to showcase their work to the community," he said. "It rewards the students for their hard work and allows the College to celebrate their completion of the Film Production program."
Admission is free, but donations are welcomed in support of the Film Production program. Doors open at 7:00 p.m. and guests are encouraged to arrive by 7:15 p.m. For more information, visit www.conflix.com.
-30-
Confederation College has been serving the citizens of northwestern Ontario since 1967 meeting the educational needs of students in a catchment area of some 550,000 square kilometres. Along with its main campus in Thunder Bay, Confederation College has eight regional sites located in Dryden, Fort Frances, Geraldton, Kenora, Marathon, Sioux Lookout, Red Lake and Wawa. 
Confederation College delivers exceptional education and training to an average of 7,800 combined full and part-time students per year and currently has a total of 805 full and part-time employees. Confederation's regional economic impact and contribution is valued at $411.2 million annually.
 
For more information, please contact:
Ashleigh Quarrell, Manager, Marketing and Communications
Ph: (807) 475-6565, Cell: (807) 632-5296, E-mail: aquarrel@confederationcollege.ca