THUNDER BAY, ON, November 2, 2018 – With transport drivers in increasingly high demand, Confederation College has partnered with NATT (Northern Academy of Transportation Training) to launch a new AZ Truck Driver program in northwestern Ontario. The program has been developed in direct response to the growing need for qualified drivers across the region and Canada.
The AZ Truck Driver MELT (Mandatory Entry Level Training) program will support learners to pursue careers as transport drivers, a role that benefits from competitive incomes and is responsible for the operation of heavy trucks to transport goods and material across urban, provincial and international routes.
"We are pleased to align with NATT, an organization with a proven track record and strong reputation in offering training for the truck driving industry," said Jason Ozbolt, Manager, Training Initiative, Workforce Development at Confederation College. "The program will serve to fill a gap in our region, while providing graduates with an important career opportunity. We'll not only be able to deliver the program in Thunder Bay, but also bring it to our regional campuses and communities."
Brian Pattison, General Manager of NATT, also shared his appreciation for the new partnership. "Confederation College is known for the quality of education it provides so it was an easy decision to establish the partnership. We've seen success with this program through our private career college in Sudbury and are happy to play a role in bringing the training opportunity to Thunder Bay and northwestern Ontario. This program will support graduates finding jobs, while also meeting the employment needs of the industry."
The AZ Truck Driver MELT program provides classroom and practical training, includes real-world scenarios and emphasizes defensive driving. It meets and exceeds all mandatory objectives set forth in the Ministry of Transportation's Commercial Truck Driver Training Standard that was released in July 2017. Graduates of the program will possess the necessary skill-set to seek employment as a truck driver for a wide range of vehicles.
For more information and to apply, visit: www.confederationcollege.ca/az-truckdriver.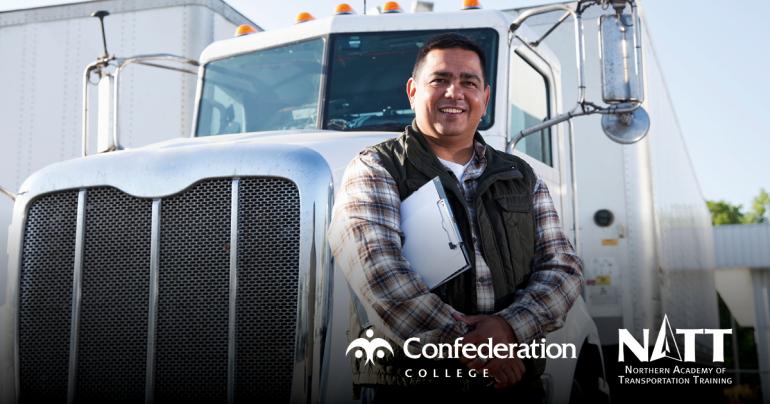 -30-
Confederation College has been serving the citizens of northwestern Ontario since 1967 meeting the educational needs of students in a catchment area of some 550,000 square kilometres. Along with its main campus in Thunder Bay, Confederation College has eight regional sites located in Dryden, Fort Frances, Geraldton, Kenora, Marathon, Sioux Lookout, Red Lake and Wawa. 
Confederation College delivers exceptional education and training to an average of 6,500 combined full- and part-time students per year and currently has a total of 850 full- and part-time employees. Confederation's regional economic impact and contribution is valued at $643.4 million annually.
NATT (Northern Academy of Transportation Training) specializes in transportation, industrial and safety training. For 25 years, NATT has been registered as a private career college under PCCA2005.
For more information, please contact:
Confederation College
Vince Ponka, Media & Communications Officer
Ph: (807) 475-6137, Cell: (807) 620-0043, E-mail: vponka@confederationcollege.ca
NATT
Leslie McDermid, Communications for TPS Group of Companies
Ph: (705) 561-0614, E-mail: lmcdermid@tpsgroup.ca