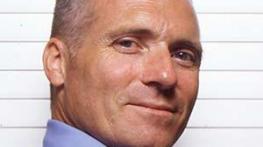 THUNDER BAY, ON, September 25, 2018 - The Manitoba Disaster Management Conference has recognized Shane Ferguson, Program Manager of the Pre-Service Firefighter Education and Training (PSFF) program at Confederation College, with an invitation to be a panelist speaker. His topic is an important one and has been a major focus of his career: fire prevention and escape plans.
"I'm looking forward to it," said Ferguson. "It's great to have been invited to share my experience and knowledge with experts from around the world."
The experience that has earned Ferguson this honour is the same experience that benefits students of the PSFF program at Confederation College – 25 years as a firefighter in Winnipeg, which led to his current position as Program Manager. He is also active in a campaign dedicated to fire safety and fire protection in Nishnawbe Aski Nation. Ferguson is just one example of many faculty at the College who bring current, relevant and real-world experiences to the classroom for students.
One such experience is his journey to the classroom, a story that helps to teach one of the most important lessons a firefighter can learn. It was one of his worst days as a firefighter that would end up changing the course of his career to focus on education and prevention, an area he is now considered a leader in among his peers. On March 28, 1998, his crew arrived on the scene and saw a house in flames. A mother was in the front yard crying hysterically and a father, his hair singed, was on top of the porch trying to get back into the burning home. Their five-year-old daughter, a girl named Laura, was still in the house. Ferguson and his partner went into the home that was thick with fire and smoke and found Laura hiding under her bed. They pulled her out, but tragically, she died two days later due to smoke inhalation.
"She didn't know what to do to escape the fire," Ferguson said. "What does a child do when they're scared and they think something bad is out to get them? They hide under the bed."
Ferguson made it his mission to teach children about the importance of escape plans and smoke detectors. "You don't hide from fire," he said. "You escape from it."
Ferguson knows that it is important to give students a true picture of what it takes to work in such a demanding field. His experience allows him to pass on practical skills to the next generation of firefighters. His passion and commitment to fire education and prevention is also instilled in graduates of the program.
The fully accredited Pre-Service Firefighter Education and Training program at Confederation College was developed and endorsed by the office of the Ontario Association of Fire Chiefs and the Office of Ontario Fire Marshall in cooperation with Thunder Bay Fire & Rescue Services. For more information, visit: www.confederationcollege.ca/preservicefirefighter.
-30-
Confederation College has been serving the citizens of northwestern Ontario since 1967 meeting the educational needs of students in a catchment area of some 550,000 square kilometres. Along with its main campus in Thunder Bay, Confederation College has eight regional sites located in Dryden, Fort Frances, Geraldton, Kenora, Marathon, Sioux Lookout, Red Lake and Wawa. 
Confederation College delivers exceptional education and training to an average of 6,500 combined full and part-time students per year and currently has a total of 850 full and part-time employees. Confederation's regional economic impact and contribution is valued at $643.4 million annually.
For more information, please contact:
Ashleigh Quarrell, Manager, Marketing and Communications
Ph: (807) 475-6565, Cell: (807) 632-5296, E-mail: Ashleigh.Quarrell@confederationcollege.ca
Vince Ponka, Media & Communications Officer
Ph: (807) 475-6137, Cell: (807) 620-0043, E-mail: vponka@confederationcollege.ca