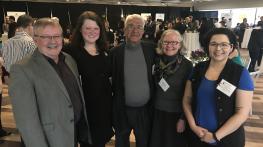 March 7, 2018, THUNDER BAY, ON – 330 Confederation College students received 515 scholarships, bursaries and awards totalling $242,060 at the annual Awards Recognition Reception.
Confederation College students were recognized for their academic achievement and community involvement. In addition, the event provided an opportunity for students and the College community to thank donors for their continued support.
"As students we balance many things," said Jodi Afonso, Student Union President. "When I'm speaking to students about their financial needs, I hear about the barriers they face each day. The students appreciate the impact that a scholarship or an award has on their lives. It gives them the opportunity to attend college or to stay in school when unexpected expenses arise. Our donors are not only gifting their dollars, but also gifting hope and encouragement for students."
One such student, Shawna Pelletier, noted how having the financial support from the awards program helps her to focus on her studies instead of on expenses. A graduate of the former Architectural Technology program at Confederation College, she made the decision to return to school for the Mechanical Engineering Technician program.
"My original field wasn't exactly right for me so I decided to come back," said Pelletier. "I have been enjoying my new program – I like the idea of making a part from scratch and then putting all the parts together. These awards help make sure I have a roof over my head and less stress when it comes to my bills so I can fully focus on my education and later, my career. Thank you to those who support students like me."
Pelletier is the recipient of the Resolute Forest Products, Viterra, Thunder Bay Foundation-Ruth Black Memorial, Student Union of Confederation College Inc. and Derek and Joan Burney awards.
Jim Madder, President of Confederation College, shared his words of thanks on behalf of the College. "I am always impressed, but never surprised by the generosity of our donors. They continue to contribute important dollars towards scholarships, bursaries and awards, all of which enable our students to focus on their studies and ultimately, to achieve their dreams. We are grateful for their philanthropic spirits and for demonstrating the value of leadership and community to our students."
Strong financial support and community relationships are paramount to the success of the scholarship, bursary and awards program at Confederation College. The generous contributions from donors help to ensure that students who require financial assistance can put their dreams to work and get the support they need.
Ruth Harper and Sudhir Handa understand the value of an education and support scholarships for the Personal Support Worker and Pathway to Advanced Diplomas and Degrees programs. Recognizing the importance of being close to home and families, the scholarships are designated for students at Confederation's Greenstone (Geraldton), Northshore (Marathon) and Wawa campuses.
"My husband and I know from experience that education is the key to a treasure box of infinite possibilities," said Harper. "We strongly believe that every student should have the opportunity to develop themselves and contribute to the development of society. The scholarships we've established help to support students in having that opportunity, which gives us great satisfaction."
Adding this year's amounts to those of the past eight years, with the help of these donors, Confederation College has been able to deliver awards to over 2,600 students, totaling more than $1.5 million.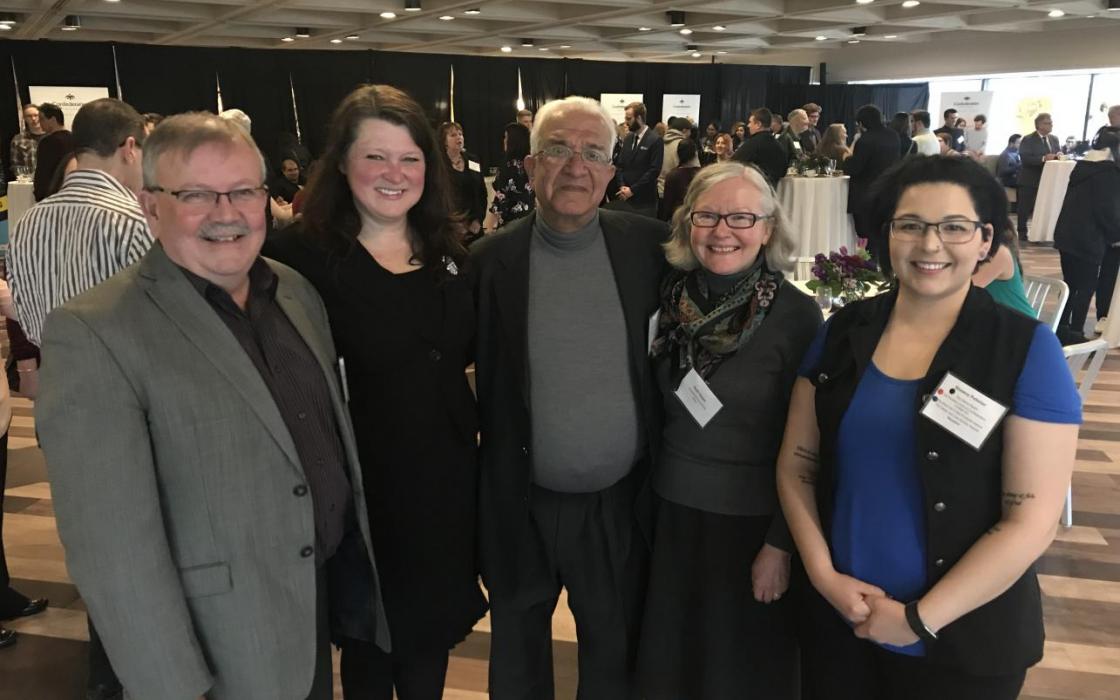 330 students received over $242,000 in scholarships, bursaries and awards thanks to the generosity of donors. President Jim Madder (left) and Vice President, Academic Patti Pella are pictured with donors Ruth Harper and Sudhir Handa and student recipient Shawna Pelletier at the Awards Recognition Reception.
-30-
Confederation College has been serving the citizens of northwestern Ontario since 1967 meeting the educational needs of students in a catchment area of some 550,000 square kilometres. Along with its main campus in Thunder Bay, Confederation College has eight regional sites located in Dryden, Fort Frances, Geraldton, Kenora, Marathon, Sioux Lookout, Red Lake and Wawa.  
Confederation College delivers exceptional education and training to an average of 7,800 combined full and part-time students per year and currently has a total of 805 full and part-time employees. Confederation's regional economic impact and contribution is valued at $411.2 million annually.
For more information, please contact:
Ashleigh Quarrell, Manager, Marketing and Communications
Ph: (807) 475-6565, Cell: (807) 632-5296, Email: aquarrel@confederationcollege.ca